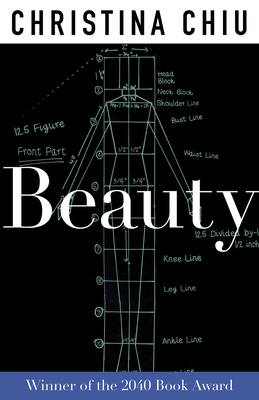 Beauty (2040 Books Awards) (Paperback)
2040 Books, 9781733777759, 278pp.
Publication Date: May 1, 2020
* Individual store prices may vary.
Description
Amy Wong is an up-and-coming designer in the New York fashion industry; she is young, beautiful, and has it all. But she finds herself at odds with rival designers in a world rife with chauvinism and prejudice. In her personal life, she struggles with marriage and motherhood, finding that her choices often fall short of her traditional family's expectations. Derailed again and again, Amy must confront her own limitations to succeed as the designer and person she wants to be.
About the Author
Christina Chiu is the author of Troublemaker and Other Saints. Her stories have appeared in Tin House, The New Guard Literary Review, Washington Square, The MacGuffin, and elsewhere. Troublemaker won the Asian American Literary Award and was chosen for the Alternate Section of the Book-of-the-Month Club. Chiu received her MFA in creative writing from Columbia. She is a founder of the Asian American Writers Workshop, and has worked in the fashion industry as a shoe designer. Find her at www.christinachiu.org
Praise For Beauty (2040 Books Awards)…
"Christina Chiu's Beauty is beautiful in the way of a scalpel blade. It's that sharp and precise, that lacerating, that true." —Michael Cunningham, Pulitzer Prize-winning author of The Hours
"With sly wit and a sure hand Chiu embroiders the life of a female fashion designer whose sexuality, ambition and creative vision make the traditional roles of perfect daughter, wife, and mother, let's say, a challenging fit. Unapologetically honest and compulsively readable." —Elissa Schappell, author of Blueprint for Building Better Girls, Co-founder of Tin House, and Contributing Editor at Vanity Fair
"I can't think of novel more unflinching in its portrayal of lust, love, and parenthood. Chiu has a unique gift as a storyteller for unflinching honesty, and the ability to see the transcendent in the details. Beauty is a novel of one woman's life, epic in emotional proportion. I was captured by Beauty and gleefully held there through to the last page." —Mat Johnson, author of Loving Day and Pym​
"Beauty immediately caught me with its propulsive force and kept me mesmerized with its lyrical writing, insight and humor as we watch the sweep of a woman's life, from young to old, through loves, lies, children, marriages, artistic promise and failure, and the changing meaning of "beauty." I couldn't put this book down, and I was so sad when such a richly described world came to an end." —Marie Myung-Ok Lee, author of The Evening Hero
"In Amy Wong, the protagonist of Beauty, Chiu has created a rapier-sharp heroine who marches into all her messes and triumphs with a wit and bravado that is as seductive as it is astonishing. A fast-paced, sexy novel about growing up, making mistakes and learning from them, written in a defiant, witty prose that is utterly mesmerizing." —Helen Benedict, author of Wolf Season and Sand Queen
"Amy Wong, the protagonist of Chiu's captivating debut novel Beauty, is an undercover powerhouse. She's a person whose strength is hidden even from herself. As she navigates a life in the fashion industry, Amy struggles with expectations—expectations heaped on her by family, a string of bad-news men, and a world skewed by sexism and racism—and so, when the novel begins, Amy believes her only power is in her beauty, defined by others. But her journey is toward something deeper and more true—"Delicate. Resilient."—and we're rooting for her all the way." —David Ebenbach, author of the novel Miss Portland
"Beauty is a moving story of one woman's journey through loss, trauma, and disappointment to self-acceptance and healing. Chiu renders her protagonist, Amy Wong, with clear-eyed compassion, pulling no punches, and the reader falls in love. We cheer for Amy's successes and mourn for her losses and want to scream in frustration as she makes the wrong choice again…and again. This is an entirely absorbing, emotional novel, a deeply rewarding read."  — Cari Luna, author of The Revolution of Every Day
"As a young woman and a child of immigrants, Amy Wong discovers that she will do anything to have and to create exquisite things. But after she falls in love with the celebrated and demanding fashion mogul Jeff Jones, marriage and motherhood threaten to snuff out her radiant gifts as a designer. Only Amy's courage—her brave loyalty to her children, to her talent, and to the ex-husband who has become her dearest friend—leads her to enlightenment and back onto the path she'd pursued all along. In this mesmerizing and unflinching novel, Chiu offers a series of brilliantly curated moments, vivid examinations of the turning points in an extraordinary woman's life. Chiu fearlessly illuminates how love, integrity, and creativity can shape a world and bring wisdom." —Lan Samantha Chang, author of Hunger and Inheritance
"I loved the way how naturally the many small moments accumulated into a life, and how fashion — and especially shoes — came to seem integral to the protagonist's past, ambitions, and love." —Gish Jen