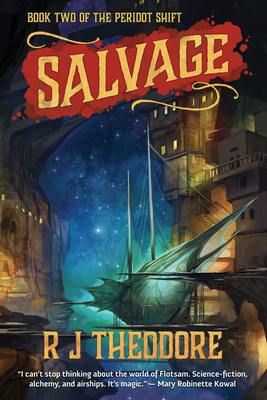 Salvage (Peridot Shift #2)
Paperback

* Individual store prices may vary.
Description
Book Two of the Peridot Shift
The shattered world of Peridot and its floating island nations are in grave jeopardy. Corruption has infested its governments. An alien threat has killed one of its gods. The souls of its people and the very planet, itself, hang in crisis. And it's up to Talis and the best gods-rotted airship crew in the skies to set things right-if only they had a ship.
Stranded on a remote island in the distant skies of Peridot, Talis and her crew know the truth and find themselves the targets of governments and gods, traitors and terrorists alike. Can Talis and her crew take flight again and fight through the forces filling the skies to save Peridot before its people are consumed and its islands fall from the heavens?
Peridot Shift is Steampunk at its best.
Parvus Press, 9781733811934, 425pp.
Publication Date: September 3, 2019
About the Author
R J Theodore lives in New England where she splits her time between writing, reading, and design. She has been a voracious reader as far back as she can remember, staggering her parents with the piles of new paperbacks she would hunt down in local bookstores. Her broad tastes have lead her to write novels that aren't easily classified into any genre but are guaranteed to be an adventure. In addition to her traditionally published Peridot Shift steampunk science fiction series, she has self-published The Bantam, the first book of her Phantom Traveller series of novellas, and is host of the Hybrid Author Podcast.