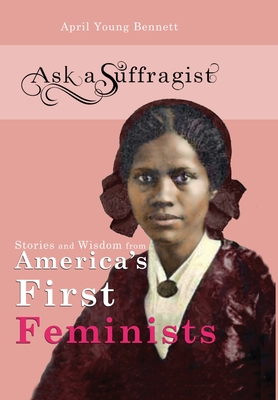 Ask a Suffragist
Stories and Wisdom from America's First Feminists
Hardcover

* Individual store prices may vary.
Other Editions of This Title:
Hardcover, Large Print (6/4/2019)
Paperback (3/1/2023)
Paperback (3/1/2023)
Hardcover (4/1/2022)
Paperback (4/19/2020)
Paperback (3/1/2023)
Description
Since the Women's March on Washington and the Me Too movement, a new, more diverse generation of feminists is raising questions about how to effect change. Ask a Suffragist: Stories and Wisdom from America's First Feminists channels the first generation of American feminists as exemplars and advisors as we seek modern solutions.
Activists with urgent causes to support don't have time to read dull history textbooks. Fortunately, American suffragists lived radical lives that were in no way boring. Instead of droning on like an encyclopedia about dates, meeting minutes and genealogy charts, America's First Feminists discusses relationships, strategies and activism, focusing on stories that are particularly relevant for modern feminist activists, whether for inspiration and emulation or to avoid repeating past mistakes.
America's First Feminists covers the 1830s through the 1860s, when the idea of equality for women was new and its supporters were vilified. In addition to suffrage, these early activists fought for abolition, temperance, racial justice, education, career opportunities, women's ordination and the right to wear pants instead of those exasperating dresses and petticoats.
Each chapter considers a question today's feminists might ask the great feminists of the past. How can we make our voices heard, like Sarah and Angelina Grimk , who defied their slave-holding background to become abolitionists? How do we break the glass ceiling, like Harriot Hunt and Elizabeth Blackwell, who opened the field of medicine to women, or Mary Ann Shadd Cary, who became the first black American woman to edit a newspaper?
America's First Feminists celebrates diversity instead of neatly pointing readers into one right way of living. The passionate, inspired and flawed people who started the American feminist movement often disagreed with each other. Well-known suffragists like Lucretia Mott, Sojourner Truth, Susan B. Anthony, Elizabeth Cady Stanton and Lucy Stone are featured, as are lesser-known suffragists whose contributions are often overlooked. America's First Feminists includes women of color such as Frances Ellen Watkins Harper and Maria W. Stewart, male feminists such as Frederick Douglass and William Lloyd Garrison and immigrants to the United States such as Ernestine Rose and Marie Zakrzewska.
Brown Blackwell Books, 9781733823906, 194pp.
Publication Date: June 4, 2019