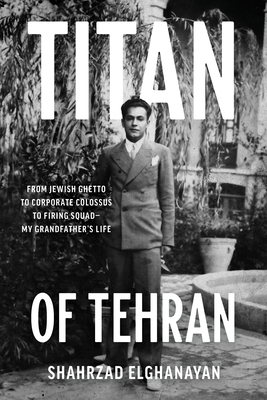 Titan of Tehran
From Jewish Ghetto to Corporate Colossus to Firing Squad - My Grandfather's Life
Hardcover

* Individual store prices may vary.
Description
"Titan of Tehran," a richly reported and elegantly rendered
story, presents a compelling central character, historic sweep and moments that
read like chapters in a thriller. The titan is Habib Elghanian - a self-made industrialist and
the foremost Jew of his time in Iran, whom the Islamic theocracy targeted as
the first civilian executed during the 1979 revolution. With Iran continuing to
generate front-page news, his previously untold story is painfully relevant,
shedding light on that country's persistent economic, political and social
problems. "Titan of Tehran" brings that great, ancient, now-compromised nation
into fresh and accessible focus. The odyssey of Elghanian's life and death is told by his
granddaughter in an understated style that nonetheless makes clear her powerful
stake and personal place in the unfolding drama. Exploring universal themes of
loss and longing, belonging and identity, she reconstructs and chronicles his
ascent from Tehran's Jewish quarter - "the edge of the pit" - to his business
success that was instrumental in modernizing the country to fatefully facing a
firing squad. "Titan of Tehran" serves as a monument to a man who might
have disappeared in the mists of history, even though his execution was
reported worldwide on newspaper front pages and in broadcast news reports. In
his homeland, Elghanian was misrepresented, mistreated, maligned and murdered -
but now won't be forgotten. He is a riveting character whom readers will keep
in their hearts - a titan, yes, but deeply, sadly, delightfully human, too.
Associated Press, 9781733846271, 290pp.
Publication Date: November 2, 2021