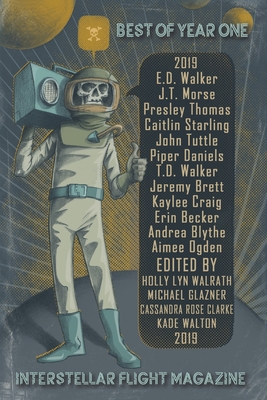 Interstellar Flight Magazine Best of Year One
Paperback

* Individual store prices may vary.
Other Editions of This Title:
Hardcover (8/3/2020)
Description
From space opera to weird fiction to indie games and NaNoWriMo, this collection represents the best in nonfiction dedicated to geekery.
Founded by Holly Lyn Walrath, Interstellar Flight Magazine is an online SFF and pop culture mag devoted to essays on what's new in the world of speculative genres. With interviews, personal essays, rants, and raves, the authors of Interstellar Flight Magazine explore the vast outreaches of nerdom. In the words of Ursula K. Le Guin, we feature "writers who can see alternatives to how we live now, can see through our fear-stricken society and its obsessive technologies to other ways of being, and even imagine real grounds for hope."
This anthology also features excerpts from three new Interstellar Flight Press books: The Manticore's Vow by Cassandra Rose Clarke, a world of dangerous magic and thrilling adventures with this trio of gorgeous, swashbuckling tales, Twelve by Andrea Blythe, a luscious and fae poetry chapbook based on the fairytale The Twelve Dancing Princesses, and Local Star by Aimee Ogden, a polyamorous space opera with a fast-paced, action-packed adventure that's sure to punch you in the feels.
Featuring interviews with T. Kingfisher, Bogi Tak cs, Valerie Valdes, R.F. Kuang, Christian McKay Heidicker, Elizabeth Lim, Emily A. Duncan, and Yoon Ha Lee.
Contributors: E.D. Walker, Jeremy Brett, T.D. Walker, Archita Mittra, Piper J. Daniels, John Tuttle, J.T. Morse, Presley Thomas, Caitlin Starling, Erin Becker, Michael Glazner, Kaylee Craig, Cassandra Rose Clarke, Andrea Blythe, Aimee Ogden.
Interstellar Flight Press, 9781733886260, 138pp.
Publication Date: August 3, 2020