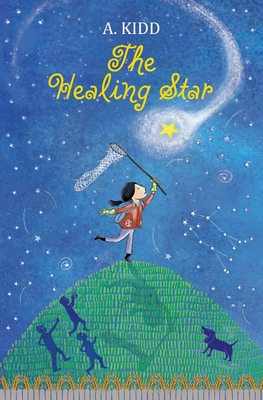 The Healing Star
Paperback

* Individual store prices may vary.
Description
Stars with healing powers are falling from the sky.

Feisty fourth-grader Julia's best friend in the entire universe is her grandmother. Julia and Grammu share secrets while cooking soup together, stay up late eating junk food and watching scary movies, and go stargazing on Blackberry Hill. They even wish on the same star every night.
But everything changes when Grammu catches the disappearing disease: little by little, she's turning invisible. If Julia can catch a falling star, then her wish to save Grammu will come true. All Julia needs to do now is find the legendary ladder to the stars...
Advance Praise
"Julia's fantastical adventure will make your eyes twinkle. Readers will root for Julia on every step of her journey." -Kristin Bartley Lenz, author of The Art of Holding On and Letting Go
"This magical tale of the love between a girl and her grandmother will draw you in and warm your heart." -Jill Webb, Children's Librarian, Farmington Community Library
"An outstanding debut novel. Julia is a spunky heroine who will capture your attention as she embarks on a star-catching mission to save her grandmother." -Susan Dion, Library Specialist, Youth Services, Baldwin Public Library
"A. Kidd cultivates a special sense of magic in following Julia's struggles against the odds." -D. Donovan, Senior Reviewer, Midwest Book Review
http: //www.midwestbookreview.com/mbw/jul_19.htm#donovan
You can email the author at A.Kiddwrites@gmail.com
https: //m.facebook.com/A.Kiddwrites/
Cover illustration by Sharon Vargo (c)2019
Quiet Storm Publishing LLC, 9781733899208, 242pp.
Publication Date: July 15, 2019