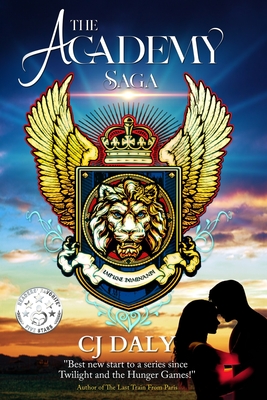 The Academy
Paperback

* Individual store prices may vary.
Description
Be careful what you wish for . . .
Barely seventeen and I'm already suffocating. Since my mother's death, my father has basically checked out, leaving me to raise my brothers out in the New Mexico scrub. All I want is a little distraction from the monotony of my pathetic life.
When two mysterious guys show up at the diner where I work, I think my wish has come true. Until they start giving me a hard time. I've learned that pretty and poor is a bad combination; it just seems to bring out the bully in some people-like those two alpha jerks. Something about them twitches my internal antennae, but I brush it aside. I mean, I'm never going to see them again. Right? Then they appear in an alley one night to either rescue or kidnap me (I'm still not sure which) before disappearing.
I put the bizarre encounters out of my mind because I have bigger problems to worry about: like that elite military academy that's been pursuing my gifted little brother. When one of their cadets shows up in my small town, he's an instant sensation. And just happens to be one of those mysterious guys. Coincidence? Mama said there's no such thing, and to always trust my instinct. But that might be kind of hard, because every time I'm around Cadet Davenport, my gut starts flip-flopping on me . . . and my heart.
Can Kate Connelly keep it together long enough to stop Cadet Davenport's mission? She's about to find out. And-once again-how suddenly life can be split into the before and after.
The Academy Saga is not your typical paranormal romance. It's a sweet and dark romance packed with secrets and thrills that will definitely give you all the small-town romance feels
Order your copy now and get in on all the angst and intrigue of this Enemies to Lovers Romance.
A three-time Readers' Favorite Five-star book series.
★★★★★ A page-turning Suspense Romance Book Viral agrees is "The next best start to a series since Twilight & The Hunger Games. "
Brandylight Ink, 9781733944304, 516pp.
Publication Date: July 1, 2019