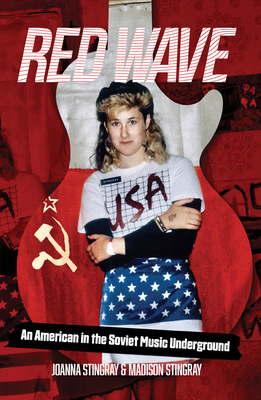 Red Wave
An American in the Soviet Music Underground
Paperback

* Individual store prices may vary.
Description
The inspiring and poetic memoir of the young New Wave musician whose improbable Cold War heroics opened the clandestine world of Leningrad punk and rock to the West.
Wild and vivid -- a rollicking memoir of romance and rock 'n' roll in an era of upheaval and transition. From Los Angeles to Leningrad and back again, Joanna's story is borne along by her infectious, headlong enthusiasm. It's quite a ride.
--Patrick Radden Keefe, creator of the Wind of Change podcast and author of Say Nothing: A True Story of Murder and Memory in Northern Ireland
Joanna Stingray was only 23 years old when she first set foot in the USSR and started meeting now-legendary musicians and artists of the Soviet underground like Boris Grebenshchikov, Sergei Kuryokhin, and Viktor Tsoi. By 1985, she was writing and recording with them, and smuggling their music to the West in order to produce the groundbreaking album Red Wave: 4 Underground Bands from the USSR. This is her testimony of youthful fortitude and rebellion, her love story, and proof of the power of music and youth culture over stagnancy and oppression. The book, written with her singer/songwriter daughter, Madison, includes Stingray's extensive collection of photographs, artworks, and interviews with the musicians.
"A memoir by an American who almost single-handedly introduced Soviet rock to the free world. ...] Enchanted by the likes of Boris Grebenshchikov, whose samizdat cassettes were massively successful and earned him a reputation as the Soviet Union's answer to Bob Dylan, she looked for ways to spread the word and] produced a 1986 compilation, Red Wave, which presaged the thaw of glasnost and perestroika that inspired more cultural exchanges. ...] With the end of the Cold War, Stingray remained in Russia, becoming a popular musician in her own right and introducing US and UK acts to Russian audiences. Stingray, who wrote this memoir with her daughter, Madison, nicely captures her daring amid an atmosphere of liberation and fear, and she's a study in moxie and enthusiasm."
--Kirkus Reviews
"'You are the mother of Russian rock ' a fan shouted as Stingray promoted her new autobiography at a Moscow bookstore. ...] The California musician aroused the suspicions of the KGB and the FBI as she bravely championed the Soviet underground in the 1980s. The Red Wave LP, released in America in 1986, introduced western audiences to Russian rock and helped end the Kremlin's censorship of homegrown groups."
--The Guardian
"Rock is for young people. It's an opportunity to open up a road into the future and breathe deeper. And all thoughtful people understand that it's not just young people fooling around. They are captivated by this music. If some of our rock bands like Aquarium and Kino were released in the West on the Red Wave album in June 1986, why shouldn't they have been released in Russia?"
--President Mikhail Gorbachev, 2019, reflecting on his decision that led to the Red Wave bands being allowed to become "official" by 1987
Joanna Stingray's appearance in St. Petersburg in the early 1980s must have been God's response to our unconscious prayers. Her naive bravery, curiosity and generosity created a kind of a lifeline for us rockers: she brought in things we needed to play our music, and took out not only our recordings but the very message of our existence. Had it not been for her and her Red Wave, it would have taken Aquarium many more years to have official records on Melodiya and Kino to start touring Europe. This fearless maiden broke through the siege that looked hopelessly unbreakable. She threw a life-saver into our waters and she changed everything. No matter how many times we thank her -- it's never enough.
--Boris Grebenshchikov (Aquarium), 2018
Doppelhouse Press, 9781733957922, 416pp.
Publication Date: September 22, 2020