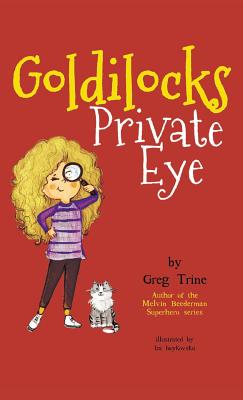 Goldilocks Private Eye (Hardcover)
Greg Trine, 9781733958929, 114pp.
Publication Date: August 31, 2019
Other Editions of This Title:
Paperback (9/1/2019)
* Individual store prices may vary.
Description
When her father dies, Goldilocks is left with nothing but her loyal cat Charlotte and a fledgling detective agency, which hasn't turned a profit in years. Then again, her father wasn't much of a detective...and even less of a businessman.
Behind in the rent, with the landlady breathing down her neck and an over zealous orphanage director out to get her, Goldilocks knows that the only way to keep herself off the mean streets of Lick Skillet (and out of the orphanage) is to do what her father couldn't--to make the agency a success.
It's not easy. How does she spread the word without getting snatched by Tom the Kid Snatcher, chief orphanage henchman...who works on commission Goldilocks disguises herself by covering her locks with a hat, but when the wind blows the hat off, Tom notices and the chase is on.
Goldilocks escapes by the skin of her teeth. She thinks she's safe--and then...there's a knock at the door. Only it's not Tom the Kid Snatcher. It's a client, looking to solve a missing persons case. "My grandparents are missing and there are bears living in her house. Will you take the case?"
Will she ever.
With more twists than San Francisco's Lombard Street, GOLDILOCKS, PRIVATE EYE tells the tale of a girl desperate to make it on her own and her loyal cat who expects nothing less.