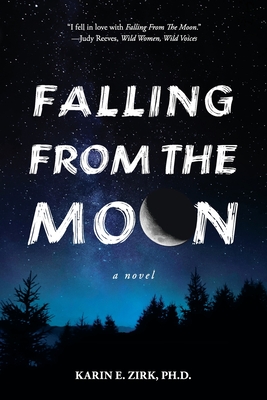 Falling from the Moon (Paperback)
Talk Story Publishing, 9781734044607, 338pp.
Publication Date: January 6, 2020
* Individual store prices may vary.
Description
In the midst of Redwood Summer in 1990, twenty-five year old visual artist, Sapphire Larson, sets out to resurrect the hippie father who vanished under a cloud of patchouli oil fifteen years earlier. Not only a peace activist, but a prophet and Hollywood actor, the mythological father of her childhood holds the key to her success as an adult - or so Sapphire believes.
Acting on a tip, she hitchhikes to the World Peace and Healing gathering. From tribal drumming at midnight, to women's healing circles by day, Sapphire ignores the lessons the universe is trying to teach her while she struggles to reconstruct her childhood by finding her father.
Waning Moon
She befriends a pregnant environmental activist from California's lost coast, Lauren, whose own dreams of glory in the Redwood Forest are crumbling as her waistline is expanding. Vietnam Veteran Grizzly Bear Garth, haunted by the blood on his own hands, has tried to absolve himself by apprehending evil at the gathering. He befriends Sapphire and his stab at fathering her backfires when he reveals truths that destroy Sapphire's dreams 'of how things should be' forever.
Lurking in the shadows is Mole, the troubled young man Sapphire befriends. Ignoring her own instincts that Mole's troubles run deep, Sapphire fails to intervene before tragedy strikes.
Peopled with flamboyant characters and mystical settings, in an alternative culture that emphasis self-reliance and opposes authority, Sapphire's journey of discovery helps her find her place in this world.