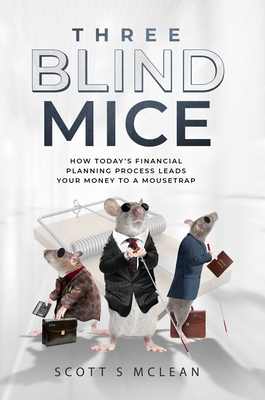 Three Blind Mice
How Today's Financial Planning Process Leads Your Money to a Mousetrap
Hardcover

* Individual store prices may vary.
Description
You receive investment advice from a financial advisor, have your tax returns prepared by an accountant, and have your will and estate plan written by an attorney.
When was the last time these three key consultants got together to discuss your overall financial game plan? You might have taken all the right steps, yet the trap has been set.
You're basically working with three blind mice, and that can end up being very costly to you . . . because the blind mice don't pay the price, you do.
Three Blind Mice
supplies the understanding and tools you need to keep your key consultants connected and operating on the same financial game plan—because your financial future depends on it. The book includes links to additional resources that can help you avoid common retirement mistakes. It also explains ways you can:
Help your heirs and the executor of your will avoid the daunting disaster of probate
Ensure your family avoids unnecessary chaos and family squabbles after you are gone
Protect your assets if you, your spouse, or parents must go into a nursing home
Avoid paying any more in taxes than you're required to
Advisor's Academy Press, 9781734180800, 288pp.
Publication Date: April 14, 2020
About the Author
Scott McLean is the Founder of McLean Tax Advisory Group, LLC , in New Jersey.