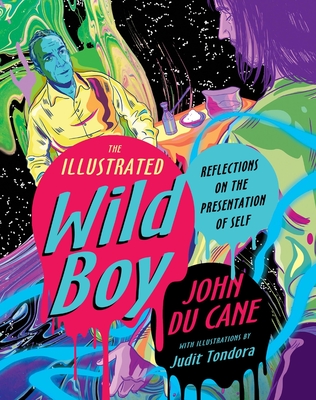 The Illustrated Wild Boy (Hardcover)
Reflections on the Presentation of Self
Du Cane Media, 9781734194401, 136pp.
Publication Date: January 14, 2020
* Individual store prices may vary.
Description
"The Illustrated Wild Boy is a collection of true tales from one of the greatest innovators the fitness industry has ever known. Some of the stories within may shock you, others will warm your heart. Some will make you blush, while a great many will make you laugh out loud. One thing is for sure: once you pick up The Illustrated Wild Boy, you won't be able to put it down! Du Cane's mastery of language and imagery is unparalleled. The style lures you in and doesn't let go. The Illustrated Wild Boy is fantastic story telling at its best, part prose, part poetry. It reminds me of the early work of Charles Bukowski or Henry Miller in its vividness, beauty and boldness. In any event, Wild Boy is the documentation of a life well lived, including multiple eras and settings, as well as some of the most interesting characters you've ever encountered on the printed page. I loved it!"  —DANNY KAVADLO, author of Strength Rules

From the Kalahari desert, to the jungles of Sierra Leone, to Swinging Sixties London to France, to India and beyond, Dragon Door publisher John Du Cane has led a Forrest Gump-like life of encounters with the great, the bizarre, the dangerous and the downright depraved. With a laconic, visceral, image-laden style reminiscent of Bob Dylan's cryptic lyrics, Du Cane delivers a set of compelling tales that exude a raw passion, a wry sense of humor and some penetrating spiritual insights. Like a Picasso portrait from his Cubist period, these are bits and pieces that put together make up a face. In this case, the multi-faceted face of a complex visionary who helped change the landscape of modern fitness with his launching of the modern kettlebell movement in 2001. Complementing the vivid text are 12 illustrations by the brilliant Hungarian illustrator Judit Tondora and an extraordinary interior design that transforms the book into a work of compelling art. A feast for the eyes and a poetic treasure for the heart and soul…
About the Author
John Du Cane is the founder and CEO of Dragon Door Publications and is best known for launching the modern kettlebell movement in 2001. He was educated at Cambridge University where he received a Masters in English Literature. Most recently he collaborated with Debbie Harry on the writing of her New York Times bestselling memoir Face it. Judit Tondora has been illustrating artworks for comics, books, games, posters, prints, magazines, trading cards, storyboards, animations and many more for over 10 years. Her illustrations have appeared in DC Comics and Dynamite Entertainment comics, Benchmark, and Scholastic books and she has illustrated official Star Trek, Captain America, Wonder Woman and Bettie Page artworks. Her latest licensed publication, a short graphic novel, appears in the New York Times Bestseller Beastie Boys Book. Besides working on licensed products for Disney, additional licenses and publishers include Rittenhouse Archives, Upper Deck, CBS Studios, Marc Ecko Entertainment, and Nike.
Praise For The Illustrated Wild Boy: Reflections on the Presentation of Self…
"The illustrations accompanying certain stories are striking and indelible...The book's potent design, which packs the pages with collages, often incorporates both the author's words and Tondora's pictures, showcasing the solid fusion of the two.  An absorbing memoir perfectly complemented by exquisite art. " —Kirkus Reviews 
"The Illustrated Wild Boy features Judit Tondora's beautiful color drawings which embellish a literary story collection that captures different memories and experiences, from a child's fascination with the power and attraction to setting things on fire to an adult's experience of color and vivid life during a cocaine experiment, causing him to lose track of years of carefully cultivated spirituality in search of bliss, creating a pattern that results in the reflection "We build beauty. We destroy the beauty. We rebuild the beauty. And so it goes…" The surprising blends of autobiography, philosophy, spirituality, and cultural investments in wild times, wild feelings, and different forms of horror and growth are wound into a story of media explorations and artistic investments to create a unique graphic novel-style memoir. Unlike typical graphic stories, this collection blends a healthy degree of literary writings with colorful visual backgrounds. Where graphic productions typically promote brevity over explorations, John Du Cane centers his adventures firmly in written observations that embrace metaphor and reflection with equal depth and insight. From young and new adult pranks and family legacies to Du Cane's independent film investments, associations, and productions which fuel riots and political fervor, one lasting legacy of this collection is its unusual ability to juxtapose spirituality, counterculture, and childhood memories. These back-to-back revelations take readers from the mountains of China, where Du Cane reflects on the pan-fried wasps he enjoyed in a serene and surreal holy mountain atmosphere, to the philosophical insights created by misreading a tee shirt affirming the importance of staying awake in life (as opposed to staying away from it). Irony, critical observation, artistic expression, counterculture trends, and social and family influences craft a series of thought-provoking, lively, engrossing short works that are not just about Du Cane's world, but about how readers interpret these visions and revelations. It's rare to find a multifaceted short story collection of vignettes whose tales are equally well rooted in artistic, personal, and social observation. Hungarian illustrator Judit Tondora's lovely backgrounds bring Du Cane's adventures to life. The result is a creative and involving work of art, language, and social inspection that will delight readers looking for literary works strong in spiritual and social revelations." —D. Donovan, Senior Reviewer, Midwest Book Review
"A voyeuristic literary and visual pleasure, The Illustrated Wild Boy is a shocking, amusing, and entertaining memoir. The writing is punchy, muscular, and bracing. The illustrations show a fascinating variety of creative visual styles, from comic-book-style pictorial storytelling to full-page images that vary to match the tones of their connected stories." —Foreword Reviews