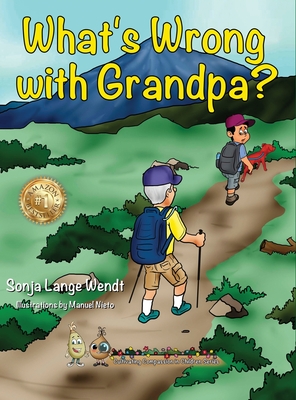 What's Wrong With Grandpa?
Hardcover

* Individual store prices may vary.
Other Editions of This Title:
Paperback (1/21/2021)
Description
If you are looking for a story about understanding aging, disabilities, acceptance, and compassion, this book from the award winning series, Cultivating Compassion in Children is for you.This is a story of a little boy, Joey, who goes on the first hike of the season in the mountains with his grandpa. His grandpa has changed over the winter. He talks real loud in his noisy truck, he is using walking sticks on the hike, he can't keep up with his grandson like he had last year, he trips on a rock and looks funny when he reads a pocket bird book, and he can't spot things in the woods like he used to last year. What's wrong with Grandpa? He's not the same. This makes 7 year old Joey sad and upset. Grandpa and Joey sit down, have a snack, and discuss what's happening, the changes that Grandpa is experiencing. Joey thought his grandpa would stay the same forever and didn't understand that his grandpa was going through the natural process of aging. This beautifully illustrated book that takes place in a breathtaking mountain setting with nature all around is a great story to help explain the impacts of aging and how it doesn't change the love a grandparent or aging person has for a child. There are thought provoking questions at the end of the story to clarify and reinforce the concepts of the story. This is a wonderful story for grandparents to share with their grandchildren. This book is part of the Cultivating Compassion in Children Series where Seymour and Serina Seed introduce and wrap up the story. They help the child understand the meaning of the story and the message of compassion being conveyed.
Cultivating Compassion in Children LLC, 9781734246346, 52pp.
Publication Date: December 4, 2020