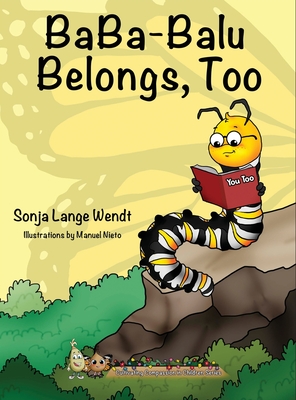 BaBa-Balu Belongs, Too
Hardcover

* Individual store prices may vary.
Other Editions of This Title:
Paperback (1/15/2021)
Description
Have you ever felt left out, or that you just did not belong or fit in. Do you know a child that has felt this way? Human beings need the feeling of self-worth to grow and develop into a healthy contributing part of society. Often our relationships and connections to others can enhance or destroy that feeling. BaBa-Balu Belongs, Too, is a story of a monarch caterpillar who doesn't fit in. He feels uncomfortable in his own skin which he grows out of 5 times. The other bugs don't play with him or include him. This causes him to be sad, mad, and even bad. One day he is so sad he creeps away from his home on the milkweed. He hangs upside down and grows out of his skin again But this time he falls into a deep sleep. In his sleep he dreams about how the other bugs include him, eat with him, play with him, and invite him to a party He feels like he belongs. This feeling overwhelms him with happiness. He wakes up feeling included and loved which causes him to spread his wings and become who he is really meant to be, a beautiful, happy butterfly. This story also follows the metamorphosis cycle and includes several of the scientific terms related to it. BaBa-Balu is part of the Cultivation Compassion in Children Series. It was prompted by the occurrence of several childhood suicides close to home. This story of becoming can be related to LGBTQ+, or any situation where the feeling of not belonging can hinder healthy growth, development, and self-worth.
Cultivating Compassion in Children LLC, 9781734246360, 40pp.
Publication Date: December 3, 2020