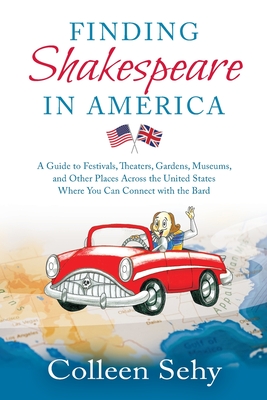 Finding Shakespeare in America
A Guide to Festivals, Theaters, Gardens, Museums, and Other Places Across the United States Where You Can Connect with
Paperback

* Individual store prices may vary.
Description
Americans have embraced William Shakespeare for more than 250 years. Finding Shakespeare in America celebrates this long-standing love affair with the Bard by bringing together hundreds of Shakespeare-related attractions across the United States in a single guidebook that makes it easy to explore and celebrate Shakespeare's remarkable American legacy. You'll find:
More than 200 festivals and theater companies devoted to the Bard
More than 100 places to enjoy outdoor Shakespeare performances
More than 40 Shakespeare and Elizabethan gardens
Precious First Folios and other rare copies of the Bard's works
Detailed replicas of Elizabethan theaters
Buildings in America that actually stood in England during Shakespeare's lifetime
Statues, stained glass, and other artwork featuring the Bard and his characters
Resources to help educators and parents introduce young people to the Bard
And much more
Finding Shakespeare in America is the perfect traveling companion and the perfect way to add more Shakespeare to your life, from the Atlantic to the Pacific and everywhere in between.
New Place Press, 9781734373202, 362pp.
Publication Date: February 4, 2020
About the Author
Colleen Sehy is a writer and speaker with special expertise in English, Scottish, Welsh, Irish, and Shakespearean history and culture in America. She draws inspiration from a lifelong love of the British Isles, numerous visits to Great Britain and Ireland, and more than thirty years of traveling across the US and Canada exploring places with links to the countries of the British Isles. Colleen spent more than three years visiting theaters, festivals, gardens, museums, libraries, and historic sites across the country for Finding Shakespeare in America. She also writes a monthly column called Eating British in America for Anglotopia.net that highlights great places to find English, Scottish, Welsh, and Irish food in the United States. Visit www.colleensehy.com for more information on her writing and speaking.