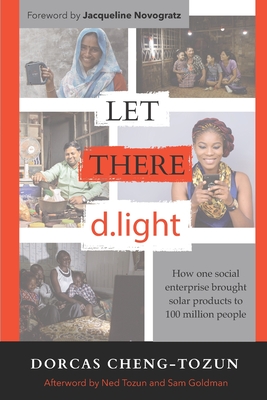 Let There d.light
How One Social Enterprise Brought Solar Products to 100 Million People
Paperback

* Individual store prices may vary.
Description
In 2004, in a village in Benin, West Africa, an eleven-year-old boy was badly burned in a kerosene accident. Peace Corps volunteer Sam Goldman, who lived near the boy's family, was horrified. Kerosene lanterns were dim, dangerous, and expensive sources of light. How was it possible that, in the twenty-first century, 1.6 billion people still did not have access to electricity? Sam's search for a solution drove him to business school at Stanford University, where he met Ned Tozun, a Silicon Valley entrepreneur, and three engineers. Their class project became d.light, a for-profit social enterprise that has provided quality, affordable solar solutions to 100 million off-grid people around the world. Let There d.light traces the unlikely, unpredictable journey to build one of the world's most successful social enterprises. This is an in-depth case study with invaluable business learnings, as well as an adventurous story of risk, near misses, and the occasional miracle. This unflinchingly honest account of the d.light team's failures and successes will fundamentally shift the conversation about whether socially minded businesses can work-to how they can transform the world."A unique book about a unique company that is changing the world. Let there be d.light." - Seth Godin, author of This Is Marketing"... a story that truly matters." - Michael Chu, Harvard Business School, and co-founder, IGNIA Partners LLC"A great read, this is the adventure of a couple of special young guys whose experience as entrepreneurs provides hope for a better world." - Russell Sturm, global lead for energy access, IFC"If you are intrigued by the potential of for-profit social entrepreneurship and you enjoy a roller-coaster ride, read this book " - James Patell, Herbert Hoover professor of public and private management, emeritus, & co-founder of the Design for Extreme Affordability program, Stanford University"Let There d.light is a great book about the journey of exceptional people building an exemplary and impactful social business-with a bit of luck, but mostly with massive passion, perseverance and sweat." - Koen Peters, executive director, GOGLA.
D.Light Inc., 9781734397000, 176pp.
Publication Date: July 18, 2020