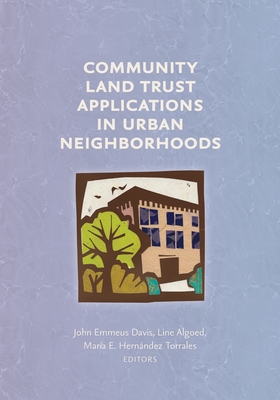 Community Land Trust Applications in Urban Neighborhoods
Paperback

* Individual store prices may vary.
Description
When the first community land trusts (CLTs) began appearing in the United States during the 1970s, all were located in rural areas. By the 1980s and 1990s, this innovative form of tenure was spreading into cities, suburbs, and towns. Homeownership remained a priority for urban CLTs, but other applications got added to the mix: revitalizing distressed neighborhoods; preventing displacement in gentrifying neighborhoods; and developing multiple types of affordable housing beyond the detached, single-family houses that had been the programmatic focus of CLTs in more rural areas.
Urban CLTs also went beyond housing. On scattered parcels of land which they owned and stewarded on a community's behalf, CLTs sponsored stores, restaurants, clinics, community centers, and facilities for other nonprofit organizations, providing a variety of goods and services for local residents. A few urban CLTs made lands available for greenhouses, community gardens, and commercial agriculture.
Today, as community land trusts have spread far beyond the United States, most are urban. There are still countries where new CLTs are being formed in rural areas, but the greatest growth in the global CLT movement is occurring in the densely populated neighborhoods and inner-ring suburbs of cities. Most of this growth has happened in the Global North, with cities like Boston, Brussels, Denver, London, Montreal, and Toronto leading the way. More recently, urban CLTs have begun appearing in the Global South as well. The Fideicomiso de la Tierra del Ca o Mart n Pe a in San Juan, Puerto Rico and the ongoing efforts to seed CLTs in the favelas of Rio de Janeiro are pointing the way.
Urban CLTs operate at the intersection of two world-wide movements for social change. The first is happening where people who occupy acreage under some form an informal landholding system are struggling to gain security of tenure. Many of these informal settlements are at the center or on the periphery of major cities in Africa, Asia, Latin America, and the Caribbean.
CLTs are also aligned with a rising tide of advocacy around housing rights, happening in cities across the world. The strategies championed by this amorphous movement for a "right to the city" include rent control, the production of housing that remains permanently affordable, and resistance to the removal of classes and races from areas experiencing government investment in major infrastructure or private investment in upscale development.
Urban issues and actions like these provided the backdrop for a collection of twenty-six original essays published by Terra Nostra Press, On Common Ground: International Perspectives on the Community Land Trust.
Terra Nostra Press, 9781734403077, 174pp.
Publication Date: November 9, 2020