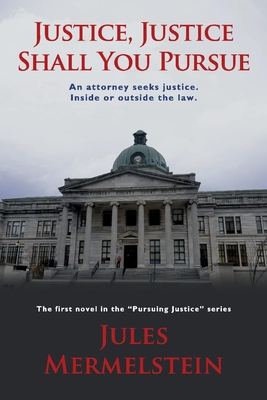 Justice, Justice Shall You Pursue (Pursuing Justice #1)
Paperback

* Individual store prices may vary.
Description
Defense attorney Joshua Frankel lives his life in pursuit of justice, whether inside or outside the law. When a wealthy client is suspected of killing his wife and claims a frame job by the NSA, Josh and his staff scramble to prepare for a dramatic trial—all while trying to determine if the outlandish theory is true. As they get ever closer to uncovering the truth, Josh's safety and that of his aides is threatened, but will it stop the quest for justice?This legal—and illegal—thrill ride explores the dark side of the legal system while touching on the subjects of international slave trafficking, domestic violence, and the ultimate question—how far should one go in the pursuit of justice?
Marblestone Publishing, 9781734444803, 262pp.
Publication Date: June 9, 2020
About the Author
Jules Mermelstein has been a criminal defense attorney, a local elected official, a Sunday school teacher, and a high school social studies teacher. He has written book reviews of legal thrillers for Sidebar, the quarterly magazine of the Montgomery Bar Association in Pennsylvania. He performs professional improv in Pennsylvania and New Jersey with The Teachers' Lounge, the resident improv troupe of UnScripted Productions, Ltd. He lives with his wife and his dog, Taco, and writes, often with Taco on his lap, in Dresher, Pennsylvania. He is a husband, father, and grandfather. He looks forward to collaborating on sequels with his readers who sign up at https://www.julesmermelstein.com.
or
Not Currently Available for Direct Purchase