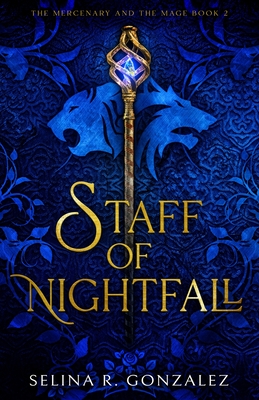 Staff of Nightfall
Paperback

* Individual store prices may vary.
Description
Freedom came at a cost they never expected to pay.After two years as the Prince of Shadow and Ash's slave, Regulus is finally free. But now the sorcerer is in possession of a powerful weapon of destruction and the woman he loves has had her magic ripped from her, and Regulus' guilt threatens to overwhelm him.
Adelaide feels like a part of her soul has been stolen. At least she still has the man she loves and a chance to restore her magic-if they can evade her ruthless suitor. But Nolan Carrick will stop at nothing to see Regulus dead and make Adelaide his wife.
While Nolan hunts them, the Prince prepares to use the Staff of Nightfall against Monparth. Regulus and Adelaide must trust each other if they have any hope of saving Monparth-and themselves.
Wyvern Wing Press, 9781734467635, 420pp.
Publication Date: July 15, 2020
About the Author
Selina R. Gonzalez is a Colorado native with mountains in her blood and dreams that top 14,000 feet. She loves chocolate, fantasy, costumes, bread, history, superheroes, faux leather, things that sparkle, medieval Britain, snark, dogs, and Jesus--not in that order.

She loves to travel, and has driven coast-to-coast in the US, visited Britain three times (once for a semester at Oxford), and moved to Maine for four and half months. She has a list of places to go as long as Pikes Peak is tall, but always comes back home to Colorado.