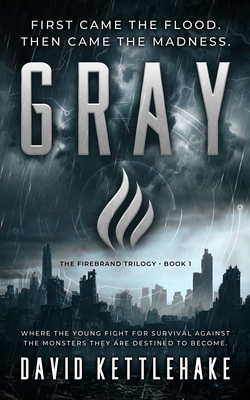 Gray
Paperback

* Individual store prices may vary.
Description
"David Kettlehake's Gray is a roller-coaster ride of suspense and horror for YA fans. Follow Scout and a small group of friends as they survive a world destroyed by catastrophic flooding and a shorted life expectancy known as GRAY. Kettlehake delivers a thriller with an original plot " -Johnnie Bernhard, author of A Good Girl, How We Came to Be, and Sisters of the Undertow
The Storm struck five years ago as a monstrous waterfall pounding the world. Entire cities vanished underwater, lakes grew and merged into oceans. Glaciers shrank and mountains melted. People changed...
Grays, vicious creatures that were once human, know only hunger. They hunt Scout and her group of friends mercilessly. Even more terrifying is that Scout and everyone still alive knows their own transformation is inevitable.
When Scout's change begins, she realizes that hers is different, and that the burden of humanity's survival is now on her shoulders. To save her friends and everyone she loves, she must find a cure. If she dies, our world dies with her.
Find out what happens to Scout and her friends in the next book of the series coming in 2021.
"Kettlehake refrains from filling each chapter with gory scenes reminiscent of World War Z, instead showing Scout, Lord, and their cohorts in a distinctly human light ... A stylish and compassionate tale ..." - Kirkus Reviews
Brother Mockingbird, 9781734495010, 310pp.
Publication Date: September 21, 2020