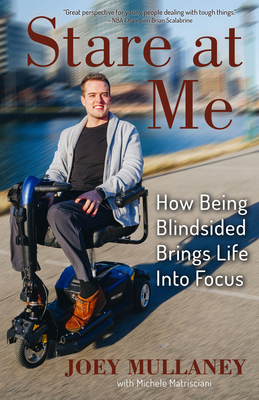 Stare at Me
How Being Blindsided Brings Life Into Focus
Paperback

* Individual store prices may vary.
Description
Joey Mullaney was only thirteen years old when he found out he was dying.

A rare degenerative disease would rob him of his ability to play sports. It would slur his speech and crash his confidence. It would even confine him to a motorized scooter as a teenager.

In this true story about his life so far, Joey reveals how he came to terms with the unthinkable. Teens and young adults will see pieces of themselves and their experiences in Joey's journey of acceptance. And they'll laugh along with Joey as he stutters and stumbles his way to discovering his true identity and finding his place in the world.

Stare at Me is more than an inspirational memoir. It's the voice of a trusted friend that empowers every reader — the geek, the misfit, the introvert, the class president, the jock — to stare down whatever faces them and say, "I got this."
Praise For Stare at Me: How Being Blindsided Brings Life Into Focus…
"Great perspective for young people dealing with tough things. I found myself reliving my childhood as one of Joey's best friends rooting for him every step of the way." —Brian Scalabrine, NBA champion and broadcaster

"Stare at Me shows us a young man's transformation from seeing his challenges as obstacles to embracing them as unique opportunities to live a full life." —Kyle Bryant, Author of Shifting into High Gear and Nonprofit Director of Ride Ataxia at FARA

"More than inspiration […] a story of grit and daring courage that shows readers there are no limits to what they can achieve, no matter what stands in the way. You must read this book, and then share it with others. —Divine Zape, Readers' Favorite

"One of the most candid autobiographies I have ever read. […] Joey Mullaney shows us how to go through life with courage and determination, and we should treasure this lesson to get the most out of our own lives." —Astrid Iustulin, Readers' Favorite

"A sharply penned and no-punches-pulled life story [...] Would highly recommend to young people who need guidance, but also for adults looking back and seeking hope and optimism." —K.C. Finn, Readers' Favorite

"Reveals an unconquerable spirit, determination, and courage [...] The boy who was horrified that he might be stared at with pity is seen growing into a young man who welcomes those stares, knowing that they carry an opportunity to help." —Kristine Morris, Foreword Reviews
KiCam Projects, LLC, 9781734564235, 232pp.
Publication Date: September 14, 2021
About the Author
Joey Mullaney helps young adults and teens make the most of their lives, no matter what obstacles they face. Diagnosed as a child with a terminal, degenerative disease called Friedreich's ataxia, Joey began a long, bumpy ride to self-awareness, confidence, and acceptance. His triumphs have been documented on Good Morning America and in USA Today and have gone viral on YouTube. Now twenty-six, Joey is an inspirational speaker and writer who blogs at joeymullaney.com. In person or on the page, Joey provides his audience with a humorous, uplifting, and motivational punch in the arm.