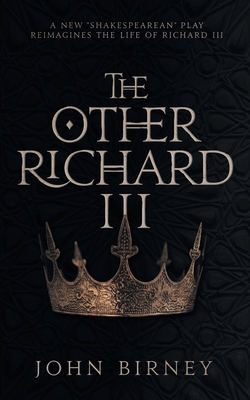 The Other Richard III
Paperback

* Individual store prices may vary.
Other Editions of This Title:
Hardcover (8/15/2020)
Description
Was Richard III the monster Shakespeare portrayed?
Here's the "other" Richard III--the real one, possibly --in a new Shakespearean five-act tragedy, written in old Elizabethan blank verse.
We see, for all its grimness, the charm of life in late medieval times, meet many affecting characters-a very human Richard, disarming Lady Anne, pleasure-seeking Edward IV and his ambitious queen, Elizabeth Wydville, covetous Lord Clarence, dashing Earl Rivers, steadfast Lord Hastings, clever Lord Stanley, perfidious Lord Buckingham, and more-and get a new take on who might have been to blame for all those irregular deaths along the way.
"I read it the first time quickly, because I was mesmerized, and wanted to seehow it ended (as it were). . . . What you show is possible and interesting." Livia Visser-Fuchs, historian of Richard III and his era.
Of course, this play is not the historical truth-indeed, how could it be when the play is made up entirely of dialogue, and the dialogue is made up entirely by the playwright? However, it is remarkably consistent with what is now known to be true about Richard, and credibly resolves what is unknown-those great mysteries in his life-in ways original yet still consistent with that history. This approach may have diminished the drama somewhat, since it seems the real Richard, especially as a boy, was not always the driving force of events. Nevertheless, he remains an inherently dramatic figure; indeed, his actual life embodied, to a surprising degree, all the major elements of Shakespearean tragedy.
Richard is shown from an eager adolescent of eighteen, recalling when he was "called to the side of his] brother, the king," until his death in battle, as the king, at thirty-two. Act I introduces the characters and their late medieval world, and shows that even though the wars have ended, individual animosities have not; Act II reveals those enmities may still be arrayed as they were in the wars, into two opposing sides, with one side, Richard believes, responsible for the recent death of Clarence; in Acts III and IV the opposing factions come out in the open, their conflict sparking Richard's rise and fall; Act V then gives us the tragical denouement. While the progression of the play is chronological, the choices made as to scenes (what to show and what not to show) and as to dialogue keep things fresh and amusing. The play follows the Shakespearean tradition of relatively upbeat, even humorous, scenes being interspersed with downbeat scenes.
The strength of the work is in the verse, which stays within Shakespeare's idiom, but keeps it more readily understandable by employing only words of that time (including many good ones not used by Shakespeare), but avoiding words or syntax which would be confusing to a modern audience. In all, the language has a pleasingly archaic quality, yet is easy to read and understand without a glossary.
John Birney, 9781734599008, 154pp.
Publication Date: May 15, 2020
or
Not Currently Available for Direct Purchase