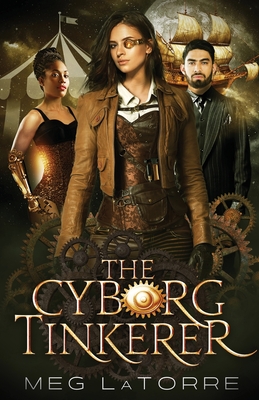 The Cyborg Tinkerer
Paperback

* Individual store prices may vary.
Other Editions of This Title:
Hardcover (11/17/2020)
Description
In a deadly circus competition, even hearts are on the line.
Gwendolyn Grimm intended to seduce men and women across the galaxy while working as a ship tinkerer on the finest vessels in the Crescent Star System. Alas, terminal illness is a buzzkill. When a life-saving opportunity struts into her life dressed in a pinstripe suit, she is made an offer she can't refuse: become a cyborg and work as a tinkerer for Cirque du Borge, the once renowned cyborg circus.
The problem is, a new law has banned the creation of new cyborgs and becoming one means execution if caught. Thus, no one cares to see the wonders of man and machine anymore.
Ticket sales continue to fall as the circus announces a competition to determine which acts will perform for the emperor on his home planet-an opportunity with the potential to save the circus from bankruptcy. But the competition has deadly consequences. Losing acts have their cyborg implants forcibly removed, and those who survive the extraction are banished from the circus.
As the tinkerer, Gwendolyn is forced to perform the revolting task of removing the cyborg implants from the losing performers. When she falls for both the man running the competition and a woman competing in it, she must decide who to protect. But can she risk having to harvest the people she loves the most?
Readers of Sarah J. Maas will enjoy this LGBTQ+ steampunk romance set in a deadly Treasure Planet-esque galaxy.
TRIGGER WARNINGS: This novel contains graphic violence, sexual content, inappropriate language, and references to eating disorders. Reader discretion is advised.
Iwriterly, 9781734601800, 420pp.
Publication Date: November 17, 2020