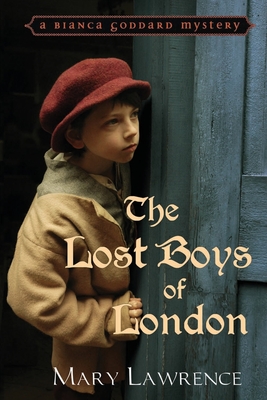 The Lost Boys of London (Bianca Goddard Mystery #5)
Paperback

* Individual store prices may vary.
Description
In Mary Lawrence's fifth Bianca Goddard mystery set during the final years of Henry VIII's reign, the alchemist's daughter uses her skills to aid the living and helps seek justice for the dead...
While her husband fights the Scots for King Henry VIII, Bianca Goddard earns her coin by concocting medicines that offer relief to London's sick. Some unfortunates, however, are beyond any remedies she can provide--like the boy discovered hanging from a church dripstone. Examining the body, Bianca finds a rosary twined around the child's neck. A week later, another boy is found dead at a different church. When Fisk, Bianca's impish acquaintance goes missing, she fears he may become the third victim...
There are many villains who would prey on wayward, penniless boys. But Bianca suspects the killings are not brutal acts of impulse, but something far more calculated. In her room of Medicinals and Physickes, she examines the sole piece of evidence: a sweet-smelling, dark-stained cloth. If Bianca can unravel its secret, reputations and lives will be saved. But the expected hour of the next murder is approaching, and a single misstep may mean another boy is lost forever...
Praise For The Lost Boys of London (Bianca Goddard Mystery #5)…
"Colorful alchemical lore and vividly imagined..." -Publishers Weekly
"[Lawrence]...is a talented storyteller"--Historical Novel Society
"Lawrence's London is no fairy-tale setting, but her heroine is as plucky as they come."--Kirkus Reviews
"The author has the Tudor language down to a gnat's eyeball.--Rosepoint Publishing
.."lively prose-enough to impart the flavor of the times while keeping the novel accessible to general readers. Try this for C.J.Sansom Matthew Shardlake series."--Booklist
"Atmospheric...Fans of Tudor historicals will eagerly await the next installment."--Publishers Weekly
"...a portal from our world to the England of 1544"--Kirkus Reviews

Red Puddle Print, 9781734736106, 326pp.
Publication Date: April 28, 2020
About the Author
Mary Lawrence lives in Maine and worked in the medical field for over twenty-five years before publishing her debut mystery, The Alchemist's Daughter (Kensington, 2015). The book was named by Suspense Magazine as a "Best Book of 2015" in the historical mystery category. Her articles have appeared in several publications most notably the national news blog, The Daily Beast. The Bianca Goddard Mystery series also includes Death of an Alchemist, Death at St. Vedast, The Alchemist of Lost Souls. Visit her at www.marylawrencebooks.com