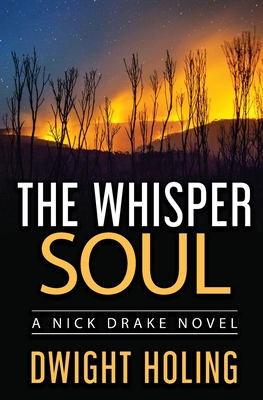 The Whisper Soul
Paperback

* Individual store prices may vary.
Description
Trouble doubles down on wildlife ranger Nick Drake.
In the latest novel in the highly acclaimed contemporary western thriller series, a mysterious Native American pleads with Nick Drake to find her missing six-year-old twins. At the same time, an arsonist goes on a rampage. As Nick mounts a desperate search for the children, he is forced to fight fire with fire when the pyromaniac targets the people and land he loves.
Read as a standalone or as part of the series.
Award-winning author Dwight Holing draws on his deeply rooted connection to the American West and understanding of the natural world to create a masterful story. With prose that crackles like the unforgiving setting, the suspense builds and drives The Whisper Soul to a climax as powerful as a force of nature.
Readers agree about the Nick Drake mystery series:
★★★★★ Smart, thrilling, beautifully-written page-turners.
★★★★★ A love song to a remote land.
★★★★★ Outstanding
★★★★★ Excellent contemporary westerns.
★★★★★ Love the emphasis on Native American folklore and mysticism.
Jackdaw Press, 9781734740417, 296pp.
Publication Date: March 9, 2020