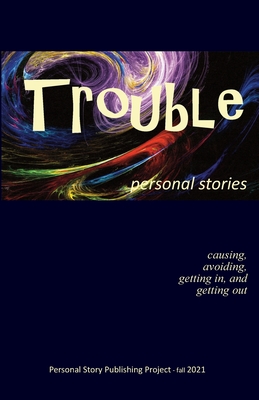 Trouble
causing, avoiding, getting in and getting out
Paperback

* Individual store prices may vary.
Description
Forty-five writers share personal stories of Trouble-causing, avoiding, getting in and getting out. Big trouble, little trouble, trouble of their own making or some that found them anyway-it's all here. They reflect on the trying, the tempting, the foolhardy, and the courageous. By luck or expertise or the grace beyond explanation, they survived or thrived, laughed in victory, or languished in the aftermath of doing the things they shouldn't have or not doing what they should have. They offer lessons learned, warnings and admonitions, and share at times the hilarity at things gone wrong or the giddiness of escaping consequences resolutely deserved. These writers telling their stories is a labor of love. Readers enjoying them is no trouble at all.
Through 45 short stories, you share in the life experiences of writers-both fresh, new voices and seasoned storytellers. They skillfully share tales from their lives, causing us all to consider our own life experiences, our own stories of "trouble"-the causes and the consequences, the rationale and the retribution, the harrowing and the laughable-the stories of trouble we know we'll always remember and the ones we desperately hope against hope nobody else does.
Daniel Boone Footsteps, 9781734796421, 200pp.
Publication Date: September 15, 2021