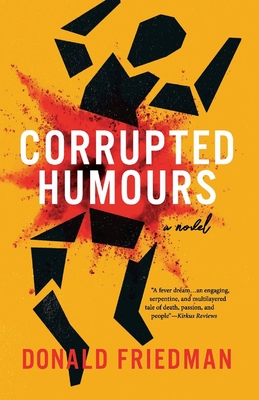 Corrupted Humours, A Novel
Paperback

* Individual store prices may vary.
Description
Corrupted Humours, a literary mystery told in two braided narratives, opens with the unexplained explosion of Albert Snaedeker, a psychiatrist, on the operating table during routine surgery. His cousin, an oil heir and publisher of Angle magazine, pressured by Snaedeker's sister, assigns his reporter and sometime novelist, Owen Berk, to investigate.
Berk not only pursues the whodunnit, howdunnit questions but, intrigued by the bizarre death and the people surrounding it, turns them into characters in a new novel. In it, Snaedeker's surgeon's depressed wife has an imagined flowering when she is indoctrinated into the world of S/M. We read Berk's novel in alternating chapters with the framing novel, uncertain of the interior novel's relationship to the larger narration, until they converge and Berk falls in love with the now-divorced wife of the surgeon, wondering how much of his passion is for her, how much for the fantasy figure he has turned her into.
BookBaby, 9781734887204, 302pp.
Publication Date: August 29, 2020
About the Author
Novelist, short story writer, and essayist, Donald Friedman is the author of the multiply translated The Writer's Brush, Paintings, Drawings, and Sculpture by Writers, which The New York Times Sunday Book Review described as "sparkling audaciously on every page," and which the American Libraries Association called "a grand feat of research and interpretation." His first novel, The Hand Before the Eye, black comic and shot through with religious themes—praised by Publisher's Weekly for "its impassioned finale of spiritual redemption," was a Vanity Fair Hot Type Recommendation. You're My Dawg, Dog: A Lexicon of Dog Terms for People, has brought pleasure equally to dog and word lovers.
or
Not Currently Available for Direct Purchase