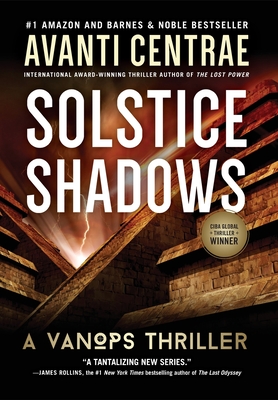 Solstice Shadows
A VanOps Thriller
Hardcover

* Individual store prices may vary.
Other Editions of This Title:
Digital Audiobook (8/10/2020)
Paperback (8/11/2020)
Description
DA VINCI CODE meets TOMB RAIDER in this multi-award-winning and #1 best-selling thriller that combines intrigue, history, science, and mystery into pulse-pounding action.
A computer-app designer. An encrypted relic. Can she and the VanOps team decipher the dangerous code before extremists trigger a high-tech apocalypse?
Broad-shouldered marine turned covert agent Bear Thorenson wants his aikido black-belt girlfriend to join VanOps, but software expert Maddy Marshall isn't sure she's ready for a hazardous dark-operations role. When an armed Russian thief escapes over her wrought-iron fire escape carrying an ancient star chart in his hand, her only choice is to join Bear in the pursuit. If her royal Spanish family legends are true, the mysterious chart leads to a treasure trove capable of powering the ultimate quantum computer. Maddy soon learns that the lightning-fast machine will be used by fringe members of the Russian government to spark a global war, and her eyes grow wide with fear before her spine stiffens with resolve.
Setting off on a mad dash to uncover the chart's celestial secrets at a Mexican archeoastronomy site, the VanOps team unearths a clue dating back to biblical times. Racing across the globe through the dangerous bazaars of Morocco, fallen Turkish temples, and Egypt's perilous Valley of the Kings, the covert group must fight to stay even a half-step ahead of sinister assassins.
With millions of lives on the line, can Maddy and Bear crack the chart's secret code in time?
SOLSTICE SHADOWS (VANOPS #2) is a standalone novel in the fast-paced, multi-award-winning VanOps thriller series. If you enjoy smart edge-of-your-seat suspense by James Rollins, Dan Brown, Steve Berry, or Clive Cussler, you'll stay up late turning the pages of Avanti Centrae's high-stakes novel.
Global Thriller Genre Grand Prize Winner - 2019 Chanticleer International Book Awards
Bronze medal winner - Adventure - 2020 Readers' Favorite Awards
An instant Barnes & Noble Nook Best Seller and Amazon #1 Best Seller
SOLSTICE SHADOWS will take you on a heart-pounding mission you'll always remember. Don't miss this wild thrill ride
Thunder Creek Press, 9781734966251, 350pp.
Publication Date: August 11, 2020