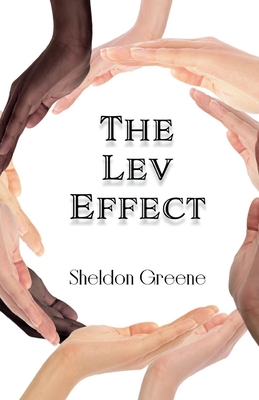 The Lev Effect
Paperback

* Individual store prices may vary.
Description
What reviews say:

"This story had me tearing up in analysis then soaring in joy. There's not a better time than now to encourage acceptance of differences and to search for and celebrate Goodness wherever it exists. Can we not use this tale as a guide at this time of year, to search out the best in everyone? This author's style will sing to your soul. I strongly recommend you read this, absorbing its hauntingly beautiful melody in its message." Book Review Crew

In Greene's novel, the director of a new Jewish boarding school rankles the community with his offbeat style—and there are rumors that he might be the Messiah.

Nudelman, a successful and irrepressible truck salesman proposes a novel idea to the Synagogue Board in the Jewish community in Bolton, a small town in Western Pennsylvania: to start a Jewish boarding school. Although they initially reject the proposal, Nudelman wins them over, suggesting that an old retirement home has plenty of room to house incoming students, and the endowment that sustains it is considerable enough to be partially repurposed. The board hires a Russian school director, Lev Kyol—"tall, angular man, weathered as an unpainted barn"—whose resume boasts experience as a school superintendent in Moscow. Although he impresses everyone with his "aura of self-possession and strength," he also shocks the board with a series of surprising decisions; he admits a Palestinian boy to the school, inaugurates a celebratory Palestinian Day, and organizes a fundraiser for a Catholic hostel. Some members of the community are apoplectic—teacher Martin Schweig schemes to get Lev deported—while others think that he's the Messiah. Greene, the author of The Seed Apple (2016), hilariously entertains this latter notion in the narration by Mendel Traig, the community center administrator: "Lev had suddenly become a diabolical, socialist dupe, a naive and irresponsible idealist, and a courageous advocate of brotherly love and understanding." Mendel earnestly tries to figure out the newcomer, while also dreaming of a romantic relationship with his best friend, Estelle Cantor. The author's artful brew of farcical comedy and theological provocation may remind readers of the work of Booker Prize–winning novelist Howard Jacobson. Overall, it's a delightfully satirical exploration of the intersection between the quotidian and the absurd. Lev is a particularly memorable character; it turns out that when he said "superintendent," he actually meant "janitor," and he neither encourages nor repudiates the strange notion that his arrival is the fulfillment of biblical prophecy. Throughout, Greene wisely explores the salutary power of faith, which Mendel calls a "kind of spiritual walker for the psychologically disabled. A profoundly funny meditation on how one can find strength in religion.A profoundly funny meditation on how one can find strength in religion."
-Kirkus Reviews

5.0 out of 5 stars A poignant glimpse of goodness

"In his warm-hearted novel "Waiting for the Messiah," Sheldon Greene touches on life's deepest questions via a community of characters committed to a Jewish retirement home cum boarding school. Humor, clear plotting, fine character portrayals, and vivid—even poetic—descriptions of the sensory world carry the throb of life. After reading the book, I sat with the same thought one of the characters articulates: "Once again I saw the good and I was glad" Susan Sanders Phillips
KinurPub, 9781735184906, 258pp.
Publication Date: November 2, 2020
About the Author
Sheldon Greene started young. He was appointed Warden of Insurance of the State of Ohio at age 23. A public interest lawyer, Greene pursued seminal issues literally decades before they achieved national attention, such as our flawed health delivery system, the impact of illegal immigration on the economy, renewable energy, and our public land policies. Greene was a participant in the first Obama national policy team for both immigration and energy. He was one of the founders of the New Israel Fund and helped formulate its unique structure drawing on his experience as General Counsel of California Rural Legal Assistance. He is an executive in a wind energy development company and has been actively engaged in renewable energy for over 25 years. He advocates the formulation of a God concept derived from the life process, stripped of anachronistic anthropomorphic characteristics. He has developed personal guidelines for a balanced, seamless life with spiritual, intellectual, social, and creative dimensions. He is the author of seven published novels.

Of the seven novels already published six have strong Jewish content. The topics range widely from fact based to flights of imagination. Topics explored include aid by Jews to the American Revolution,(Pursuit of Happiness) Jewish influence on Pre-Columbian culture, (The Seed Apple) World War II Jewish partisans, the illegal immigration to Palestine, the Israeli War of Independence (Prodigal Sons) , small town Jewish values,(Lost and Found). One of the novels, (Burnt Umber) moves from Pre World War I Germany to Berkeley during the Viet Nam war with the German artist, Franz Marc and a fact-based Jewish artist and Cal professor as the principal characters. A major theme is the empowerment of women in the 20thCentury. Yet another novel (After The Parch) describes California in the near future after the dissolution of the United States.
or
Not Currently Available for Direct Purchase