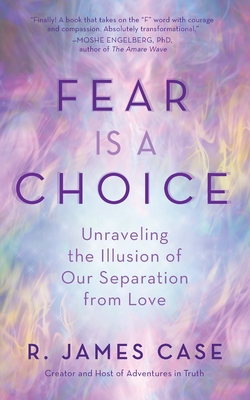 Fear Is a Choice
Unraveling the Illusion of Our Separation from Love
Paperback

* Individual store prices may vary.
Description
How would your life change if you knew that fear was not a given, but a choice?
Get ready for a remarkable awakening, because what you've previously believed about fear is about to be turned upside down.
After spending two decades exploring a variety of spiritual teachings, historical reflections, and physiological processes, author R. James Case discovered something he found astonishing: that fear is something learned, not instinctual, for us as humans. From our time in our mother's womb, we have been so inundated with fear that it has become the manipulator of choice, in part because we assume it is an organic part of our experience. Yet fear is neither inherent to who we are, nor is it our natural default.
If you desire a new understanding of what fear is, want to bust open how it works and is used, and embrace that it is a choice we make-consciously or unconsciously-tap into the deep truths presented within the pages of this book. You will not only change your relationship with fear, but you will undergo quantum change and a welcoming of freedom unlike anything you have experienced in this lifetime.
Front Range Press, 9781735213606, 200pp.
Publication Date: September 29, 2020