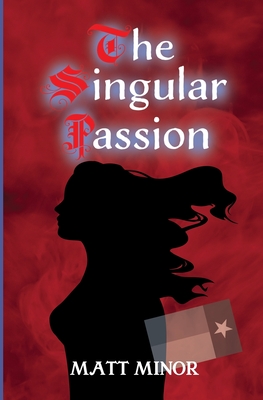 The Singular Passion
Paperback

* Individual store prices may vary.
Description
A pomegranate and rose, a feather, an ashen bird, an eight-pointed star... what do these and other 'symbols' have in common? And what do they mean, if anything?
Back from a tumultuous legislative session, divorced from his pregnant wife Tryphena, and living the life of a vagabond, Texas State Representative John David Dothan returns to House District 100 a beleaguered man. But his problems are just beginning. Rumors abound of potential opponents, from both parties. And the local headlines warn of an alleged stalker. What he needs at present is lodging, for both his office...and himself.
At the advice of his chief of staff, Mason Dixon, he takes up residence in a hundred year old structure at the heart of the district. But working and living in the same spot might prove to be a grave misstep. In desperate need of an assistant, Dothan hires Kat Morgan, the dark haired daughter of a local elected official. Working alone together, it's only a matter of time before an unprofessional love affair ensues.
Soon the area is subsumed in a series of baffling, perversely artistic murders. Local authorities, under pressure to validate their power, circle the wagons for fear of outside interference. Suspect or solution, Dothan is dragged into both the investigation and a contentious political race; as his love for Kat consumes him.
But what are Kat's true intentions? And who is she really working for? Both by her contrivance and her ignorance, Kat is the culprit and the key that unlocks two mysteries. She is The Singular Passion.
Dead Tree, 9781735224909, 290pp.
Publication Date: November 13, 2020