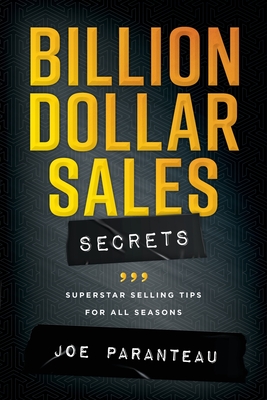 Billion Dollar Sales Secrets
Superstar Selling Tips For All Seasons
Paperback

* Individual store prices may vary.
Other Editions of This Title:
Hardcover (3/5/2021)
Description
★ 2022 Axiom Business Book Awards -Bronze Winner - Sales Category ★
Are you looking for real sales insights that are effective in today's ever-changing market?
Billion Dollar Sales Secrets is the ultimate resource for sales professionals. Inside are hundreds of proven ways to accelerate your selling.
It's been a handbook for national collegiate sales teams and B2B sellers who have blown out their numbers by fine-tuning their game.
Readers and reviewers have shared how much they enjoyed the information covering the breadth and depth of street smarts, mindset, strategy, and sales process to create your success story. Entrepreneurs have sharpened their pitches to gain increased investment in their ventures. The book has plenty of space for notes, and each chapter covers a key component of sales success.
Check out how Joe Paranteau brings real insights from 30K+ sales meetings and share how he delivered more than $1B in sales in months. He shares real-world case examples from top sales professionals and leaders across industries as he unmasks the art and science of selling.
Here's just a taste of what you're about to discover:
✔ Three concrete ways to improve your success RIGHT NOW (Yes, you can implement these anywhere at any time, and they will bring top performance.) (Chapter 1)
✔ The Nine Superstar Traits to rise and win. (Chapter 3)
✔ How to unleash the power of storytelling.
✔ How to develop your sales pre-game strategy, understand what's going on in your customer's heads and get them to help you sell. (Chapter 4)
✔ Learn how to multiply limited budgets and average sellers with technology to scale.
✔ Understand the techniques and technology to generate substantial revenue in just months.
✔ What to do when your sale gets off track, and how to steer it in the right direction. (Chapter 11)
✔ Learn how to manage the realities of selling life, such as working with your sales managers and giving back to your communities.
✔Accurately analyze and prepare for fantastic customer engagements
✔Engage customers with empathy and outmaneuver competition as you rewrite the rules for the new economy.
✔Build a plan for your success to enrich your life and your value, no matter what curveballs come your way.
...and much more Get the book today.
Joe Paranteau, 9781735232751, 214pp.
Publication Date: March 5, 2021