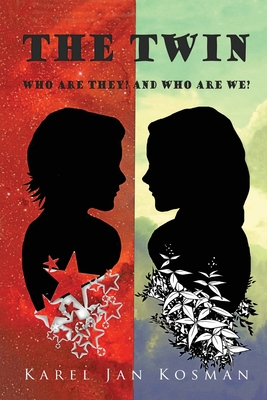 Who Are They? And Who Are We?
Paperback

* Individual store prices may vary.
Description
In THE TWIN: Who Are They? And Who Are We? Karel Jan Kosman's team presents a vividly illustrated sci-fi. Voyager 1 wanders into a parallel universe of a twin planet. They are captivated by the recordings carried by the Earth probe and launch a capsule back in the wormhole to establish contact.
The capsule's signal is detected first by Colorado teens hunting for extraterrestrials. The historic event affects their entire lives. On the twenty-fifth anniversary, a reporter looks to document that, and the team agrees to interviews. As the report progresses, he gets drawn into the story himself. The reporter attains close relationships with the twin heroines but gets no further. Finally, the romance he so desires blossoms in supernatural happenings in the wormhole. And the story's pace picks up from there.
THE TWIN: Who Are They? And Who Are We?
by Karel Jan Kosman is a science fiction novel with social themes written in three sections.THE TWIN I: A Faithful Account. An aspiring freelance reporter records the lifetimes of eight adventurous Coloradans. He chronicles the discovery of a twin planet of Earth in a parallel universe, and its impact on the two worlds connected by a time-differential wormhole. THE TWIN II: In Memory of Pamela. The reporter writes a what-if fantasy for Pamela's parallel world. Illustrated comics-style by a talented earthling descendant, it reaches all corners of the twin planet, and the people heed its warnings.THE TWIN III: Goodbye, Earth; Hello, Heaven Will the reporter survive a mind-boggling trip through the wormhole and find a new life on Twin?
The author went back to Prague, his birthplace, to help the country return to democracy and free enterprise. He'd experienced first hand how centralism deprives people of opportunities for fulfillment. Unless you belong to the ruling caste, you work a job slotted for you by them. He knew the solution was to help privatize state monopolies and promote small businesses. But many former Communists turned entrepreneurs still followed their monopolistic instincts to seek an unfair advantage. And Karel preached the American way of win-win that benefits both parties but also spreads the wealth around.
After twenty years of flying back and forth, the Kosman's resettled in their Colorado mountain home. Soon they noted something alarming: creeping trends toward elitist, American caste society, win-lose deals, and opportunity inequality. That inspired Karel to follow his beloved authors' footsteps and write science fiction to expose the elites' doings in a mirror. Liba Kosman provided the photography, and they completed the authorship team with Avinash Tiwari matching the graphic style of "a talented earthling descendant."
Quires Investments Rlllp, 9781735277905, 124pp.
Publication Date: September 14, 2020