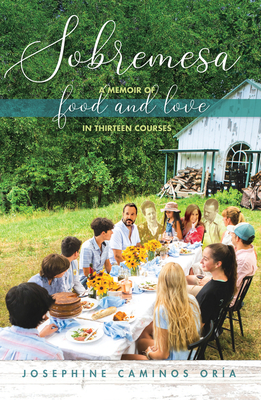 Sobremesa
A Memoir of Food and Love in Thirteen Courses
Hardcover

* Individual store prices may vary.
Description
"Sobremesa reads like a cross between magical realism and the food section of the New York Times. Delicioso!" —Beth Ostrosky-Stern, New York Times Bestselling Author

If food is the universal language of love, sobremesa is the romance. Gather around the table with C-level career woman turned foodpreneur, Josephine Caminos Oría, as she cooks up a magical tale, told morsel by morsel, of some of her most memorable tableside chats—sobremesas—that provided the first-generation Argentine-American the courage to leave the safe life she knew and start over from scratch.

In her coming-of-age adventure, Josephine travels to her family's homeland of Argentina in search of belonging—to family, to country, to a love, and ultimately, to oneself. Steeped in the lure of Latin culture, she pieces together her mom and abuela's pasts, along with the nourishing dishes—delectably and spiritually—that formed their kitchen arsenal. But Josephine's travels from las pampas to the prairie aren't easy or conventional. She grapples with mystical encounters with the spirit world that lead her to discover a part of herself that, like sobremesa, had been lost in translation.

Just as she's ready to give up on love all together, Josephine's own heart surprises her by surrendering to a forbidden, transcontinental tryst with the Argentine man of her dreams. To stay together, she must make a difficult choice: return to the safe life she knows in the States, or follow her heart and craft a completely different kind of future for herself—one she never saw coming.

This otherworldly, multigenerational story of a daughter's love and familial culinary legacy serves up, in 13 courses, the timeless traditions that help Josephine navigate transformational love and loss. It's a reminder that that home really is anywhere the heart is. Sobremesa invites you to linger at the table, reveal your own hidden truths and savor the healing embrace of time-honored food and the wisdom it espouses.

The memoir Sobremesa is a reminder of a slower time, an exuberant, passionate place, and love as vast as the Argentine pampas. - Foreword Reviews
 

Foreword by Sofía Pescarmona, CEO and Owner, Lagarde Winery
Praise For Sobremesa: A Memoir of Food and Love in Thirteen Courses…
"As a young girl, I enjoyed Josephine. But even more, I have loved meeting Josefina. I found myself transported to extraordinary middle places: Argentina and the United States, the ghostly limbos between life and death, youth and adulthood. 
Sobremesa
 reads like a cross between magical realism and the food section of the New York Times. 
Delicioso!
"
—
Beth Ostrosky-Stern,
Pittsburgh Native
and
New York Times Bestselling Author
"At once a magical matrilineage, recipe book, and love letter to Argentinian culture, Josephine's 
Sombremesa
 is not only a moving culinary memoir, but a timely cultural portrait and call to return to a slower, more sensual relationship with our loved ones and ourselves."
—
Allie Rowbottom, author of 
Jell-O Girls
"Josephine didn't just find a love for Argentina, reconnecting with her family's past and heirloom recipes. She's uncovered a sisterhood in 
sobremesa
, and wants to extend it to those who still don't know about it or who don't yet know they just might need it most. Because it's there, in the intimacy of our own kitchens that we join forces, connecting in the place that, for so many people and families, is a meeting point, a place where culture lives on and transforms itself."—Sofía Pescarmona, Entrepreneur and Viticulturist, CEO and Owner, Lagarde Winery and Fogón Restaurant in Mendoza Argentina 
"Oría's memoir is the true story of a daughter's love, loss, and cross-cultural, multi-generational legacy that unfolds like a magical realism novel à la Laura Esquivel's
Like Water for Chocolate
." —
Hispanic Outlook on Education Magazine
"The memoir
Sobremesa
is a reminder of a slower time, an exuberant, passionate place, and love as vast as the Argentine pampas." —
Foreword Reviews
"I found myself wanting to try every recipe and magically transform my dining table into a place where my family and I would linger over delicious food and wine and talk late into the night." —Joy Ramirez, 
Chapter 16
"
Sobremesa
takes us inside Josephine's kitchen, where we get the chance to explore her unique culinary journey and her beloved Argentina. Josephine's story tells us about a side of Argentine cuisine and eating culture that isn't usually written about: the importance that family, friendship, delicious food and vino have at the table. A delight to read that will warm your corazón." —Allie Lazar, writer and creator of
Pick Up The Fork
"This is the perfect book for now [...] people want so desperately to come together." —Wiley Cash, New York Times bestselling author of When Ghosts Come Home
"Great and engaging memoir with recipe[s] slipped in between chapters. Very well done and far better than many more publicized memoirs of late." —Steven Schend, Assistant Branch Librarian, Grand Rapids, MI
"[
Sobremesa
is] a beautifully crafted reflection on family and love and how the simple and often forgotten art of gathering together for meals, passing on recipes, teaching and learning traditions, taking the time to talk and listen to those you care about is so important." —Aleks Lazic, Canadian founder of Al's Deli, Chef, Brewer
"Fans of memoirs with recipes, of stories of multicultural identities and of the celebration of shared meals that bind people together will find
Sobremesa
as nourishing as the recipes within." —Katie Weed, freelance writer and reviewer
"Abundant in heart, intimacy and flavor . . . Oría's story spreads love and nourishment where others might forget its power . . ." —Katie Weed, freelance writer and reviewer
Scribe Publishing Company, 9781735305189, 400pp.
Publication Date: May 4, 2021
About the Author
Josephine Caminos Oría is an Argentine-American author, entrepreneur and mom, and she has been called "The woman who is bringing the Argentine Sobremesa to the United States" by The Clarín (the Argentine version of the New York Times). It was in her early 40s, with five young children in tow, that Josephine took a chance on herself, leaving a C-level career to make dulce de leche. Today, Josephine is co-founder of La Dorita Cooks, an all-natural line of dulce de leche products and Pittsburgh's first resource-based kitchen incubator for start-up and early stage food makers.