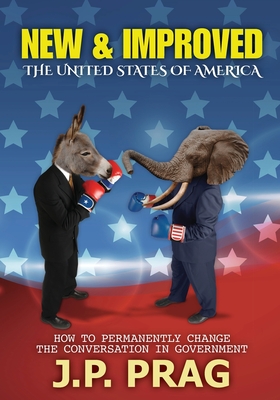 New & Improved
The United States of America
Paperback

* Individual store prices may vary.
Other Editions of This Title:
Hardcover (10/6/2020)
Description
The United States government is broken to the point where we can no longer have a single discussion without claiming partisan favoritism. Perspective does not matter because the entire political process has become a quagmire where nothing happens. Why is it so out of control? Every side will blame each other, but where are the solutions?
NEW & IMPROVED: THE UNITED STATES OF AMERICA goes beyond the 230 years of how we got here. Instead, a myriad of amendments, laws, and policies are explored to show how we can do better. With these fundamental and forward-looking Constitutional updates, hope will be restored to disenfranchised voices and there can finally be a real conversation in the United States government
--------------------------------------------------------------------------------------------------------------
** A Quick Truth to be Held Self Evident **
Marriage and the Post Office
One is a fundamentally protected right that has been a part of the United States of America since its founding.
The other... well... it is not even mentioned once in the entire Constitution nor all the Amendments.
Do you know which one is which? And, more importantly, why that is? What were the architects of our country trying to do when they laid out particular rules and rights? Or to put it another way:
Why did the Founding Fathers believe the Post Office was so important while Marriage-with all its societal implications-did not even warrant the smallest of mentions?
NEW & IMPROVED: THE UNITED STATES OF AMERICA is an exploration of what the law of the land is and what needs to happen in order to even have a conversation about how it can be changed for the better. Inside is not the answers to every problem we have in America, but instead are the tools to make it possible to even talk about our issues and do something about them.
In order to have a true and just representative democracy, much must metamorphosize in our policies, laws, and-most of all-the Constitution itself. That said, will our representatives in government have the patriotism to put the benefit of the nation and its citizens above themselves and their personal ambitions? It is a lot to ask, but as the saying goes:
"We the people..."
Basil Junction Publishing, 9781735328720, 380pp.
Publication Date: October 6, 2020