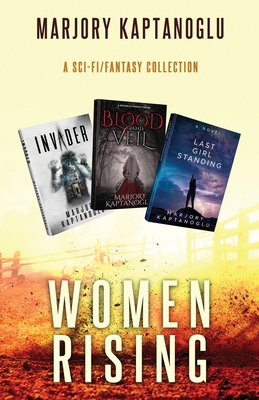 Women Rising
A Sci-fi/Fantasy Collection
Paperback

* Individual store prices may vary.
Description
Three award-winning sci-fi/fantasy thrillers by bestselling author Marjory Kaptanoglu, featuring strong female protagonists overcoming incredible odds and coming into their own.
INVADER (novel): Two women thousands of miles apart. One a scientist stranded on an island with an untrustworthy male colleague and a hostile alien stalking them. The other-a thief wrongfully imprisoned for murder-lives in fear of assault by a corrupt prison guard. Neither can overcome the invaders that threaten their survival without solving the mystery of the link that binds them.
LAST GIRL STANDING (novel): Tainted water and brainwashed adults.... what's an awkward 17-year-old to do? Sierra Mendez gathers her friends to stop a powerful entity from replacing the town residents with androids bent on humanity's demise.
BLOOD AND VEIL (novella): Set in an alternate history world in which women have no rights, Blood and Veil tells the story of beautiful, cultured Gabrielle, who lives and works at a house of courtesans. After uncovering evidence that her patron has committed murder, she plots to bring him down by allying herself with a secret society of wives who will use any means to avenge the wrongs against them.
Marjory Kaptanoglu, 9781735377834, 540pp.
Publication Date: July 22, 2020
or
Not Currently Available for Direct Purchase