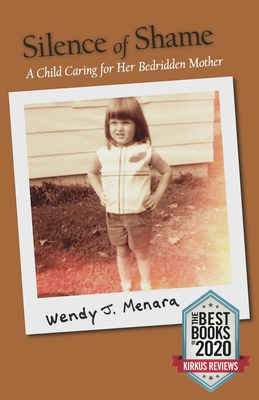 Silence of Shame
A Child Caring for Her Bedridden Mother
Paperback

* Individual store prices may vary.
Other Editions of This Title:
Hardcover (8/18/2020)
Description
Named one of the Best Books of 2020 by Kirkus Reviews.
In this personal narrative, Wendy J. Menara reveals the rare perspective of a child living in the shadow of death, caring for a chronically ill, mentally abusive, bedridden parent. She shares episodes of her life caring for her mother and the heartbreak, at age thirteen, of losing her mother.
By the time she entered first grade in the early 1970s, her parents had divorced, her father was rarely in her life, and her volatile, pain-wracked mother was bedridden with multiple sclerosis. With no other options, the optimistic child and her siblings fed, groomed, and cared for their mother's deteriorating body.
Though her mother was abusive, Wendy refused to stop loving her. Only after her mother's death would she discover damaging secrets and hidden identities that would forever change her world.
Told in vignette form, Wendy J. Menara's compassionate chronicle, Silence of Shame: A Child Caring for Her Bedridden Mother, is for those seeking insight into dysfunctional family relationships and weathering the challenges of caring for a loved one with a debilitating illness. But most of all, it's a story of resilience-when the role of the caretaker and the cared for are prematurely reversed, there is no choice but to become a responsible adult long before growing up.
"Incisive, courageous writing in a vivid family account that proves both sensitive and challenging . . . Illustrated with family photographs throughout, the memoir closes with an unexpected revelation and offers a message of hope and healing that will be of value to others who have faced similar circumstances." - Kirkus Reviews (named one of the best indie books of 2020)
As a retired family court judge "Silence of Shame" gave me brutal insight into what one family had to endure. I wish it had been available while I was still on the bench. It is an honest, compassionate work that should be required for court and social workers.
Joel Massie, Retired Family Court Judge
Turtle Mountain Stories, 9781735396903, 212pp.
Publication Date: August 18, 2020