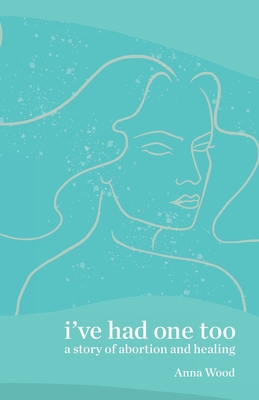 I've Had One Too
A Story of Abortion and Healing
Paperback

* Individual store prices may vary.
Description
"To convey the granular, paradoxical complexities behind a woman's decision to have an abortion, you need to be a good writer. Anna is a truly stunning writer and her story is of intimate service to the world right now." - Sarah Wilson, NY Times bestselling author of First, We Make The Beast Beautiful
When Anna made the decision to terminate her pregnancy, she stood at a crossroads: She could shrink into the shadows of undeserved shame, or she could bare her soul and use her grief to comfort those like her. Tearing down the walls of stigma, Anna's honesty to her friends and family was met with more love and support than she had imagined possible. What really surprised her, though, was how many people admitted that they had one, as well.
I've Had One Too sheds light on the true experiences of what Anna and millions of people in the United States have fearfully kept shrouded in secret. This memoir reaches out and lifts up the countless people who have made this challenging choice and fought for autonomy over their bodies and medical rights.
Weaving deeply personal narrative with insightful statistics, this memoir provides new insights and reminds us why we cannot stop talking about abortion law and science, even decades after the case of Roe v. Wade. After all, how does one heal from abortion grief? Why isn't it something we are taught to cope with? Why do so many activists and politicans intentionally leave abortion out of the conversation?
This book belongs on any the shelf of every feminist reader, holding its head high beside the works of inspirational social justice leaders Loretta Ross, Gloria Steinham, Dorothy Roberts, and Meera Shah.
Click "Add to Cart" to add it to your own shelf.
The more you know...
24% of U.S. women will have an abortion by age 45
41% of unintended pregnancies occur due to people using birth control incorrectly and inconsistently
59% of women obtaining abortions are already mothers
91% of abortions are performed in the first trimester
Only 1.4% of abortions happen at or after the 21st week of pregnancy
Praise for I've Had One Too:
"It is finally time to claim our right to this part of our reproductive lives. It is finally time to give a voice to those women who felt ashamed and guilty for making a personal choice." - Marine S l n e, Family Constellations Therapist.
"Anna's book will help so many women. In my practice, I see first hand what a psychological toll abortion takes on my clients, which is intensified by the shame and silence that surrounds this topic. It's time to create a culture where people feel supported in making whatever is the most ethical choice for them." - Jessica Baum, psychotherapist and founder of Relationship Institute of Palm Beach
Numinous Books, 9781735471044, 158pp.
Publication Date: February 16, 2021