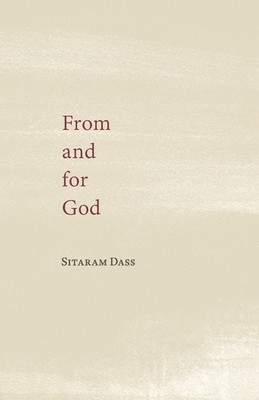 From and for God
Collected Poetry and Writings on the Spiritual Path
Paperback

* Individual store prices may vary.
Description
From and for God is an intimate and contemplative collection of writings on the spiritual path. Through poetry and prose, Sitaram Dass honors his teacher, Ram Dass, and shares his heart's journey on the path of Love.
The author donates 100% of his profits to Hanuman Maui, a 501(c)3 nonprofit with a mission to preserve Ram Dass's legacy on Maui and foster community through the teachings of love, service and devotion. Half of those proceeds are specifically designated for Kripa's service projects through the Sacred Community Project, a program under the direct fiscal sponsorship of Hanuman Maui. Kripa works to lower the barriers of access to contemplative and devotional practices through affordable, free, and donation-based offerings and prison outreach.
"In these luminous pages, Sitaram Dass embodies the teachings of his beloved mentor, Ram Dass. The warmth of devotion melts any meaningful distinction between cultivating loving awareness of the perfection of all that is and a wholehearted YES to alleviating suffering in the world, between art and activism, poetry and spiritual practice, between self as separate and Self as one with the One." -Mirabai Starr, author of Wild Mercy and Caravan of No Despair
"Sitaram Dass is a writer in the tradition of the great mystic poets: Kabir, Rumi, Hafiz, and the original Mirabai, and his use of language is infused with that divine spark. His poems awaken joy, which often is in short supply. His essays explore how the teachings of Ram Dass and Neemkaroli Baba relate to materialism, gender and race, and the delicate balance required in holding suffering, compassion, karma and grace in one life. I loved reading this book: as he says Ram Dass taught him, Sitaram Dass shows us an example of what is possible when we fully honor our human hearts." -Mirabai Bush, founding director of Contemplative Mind in Society and author of Walking Each Other Home
"There is sweet wisdom here and deep devotion, and Ram Dass's love perfume that infuses SitaRam's words and heart, offered here to you." -Jack Kornfield, founding teacher of Spirit Rock Meditation Center and bestselling author of A Path with Heart
"In the many hours, days and weeks I shared with Sitaram Dass at Ram Dass's home on Maui, I was always deeply touched by his kindness, his sweetness, his intelligence, and his devotion. He is a relatively "young" man who embodies the wisdom, depth, and clear perception of a very old soul. His dedication to caring for Ram Dass was deeply touching. And it was abundantly clear how very much Ram Dass loved him . . . and enjoyed his Presence. This lovely collection of poems and writings emerged from Sitaram Dass's joyful, radiant Heart. They offer the reader a delicious taste of the unfolding of the Light on one Beautiful Soul's journey hOMe." -Ramananda John E. Welshons, author of One Soul, One Love, One Heart and When Prayers Aren't Answered
"In this beautiful book, Sitaram Dass sings his boundless love of serving Ram Dass and his guru, Maharaji, in sacred poetry and consecrated prose. You'll fall in love along with Sitaram-and for those of us blessed to spend time in the divine household on Maui, it all rings true. I'm inspired and touched by Sitaram's generous, courageous revealing of his heart's journey to God. I can feel the love and joy that suffuses it all. May you bathe in Sitaram's wisdom and compassion as you savor the learning he offers to our world." -Trudy Goodman, founder of InsightLA
Kripa Publishing, 9781735530505, 128pp.
Publication Date: March 20, 2021