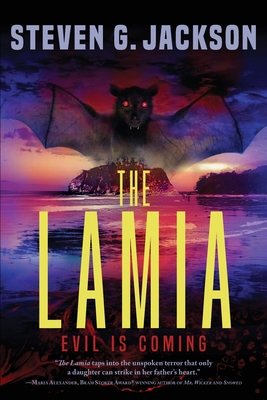 The Lamia
Paperback

* Individual store prices may vary.
Description
Evil is preying. With the highest possible stakes, amidst a horrific and suspenseful race against time, a reluctant psychiatrist fights a demon, a global pandemic risk, and his own troubled past in a fight for his daughter's soul.
On a remote boulder on a beach in Costa Rica, an unorthodox family vacation turns into a fight to stop a global pandemic. Emerging from the jungle treetops during a thunderstorm, a vampire bat attacks teenager Taylor. When her mother drowns in the turbulent ocean during the storm, Taylor blames her father, Richard Morgan, when his medical training can't save his ex-wife.
The leader of a Costa Rican task force, a transplant from the nearby indigenous Bribri tribe in the Talamancan mountains, is determined to stop the spread of a deadly global pandemic originating from a Bribri demon. She tries to kill Taylor on the spot, but Morgan overcomes the task force and the family escapes home to Salem, Oregon.
But Taylor starts to change, and Morgan is conflicted between the science he relies on as a psychiatrist (and his atheist girlfriend) and the religion he abandoned. Linda, who lost her daughter to the pandemic, arrives to convince Morgan the unexplainable is real, and he eventually has no choice but to accept his daughter is possessed by an evil that is transforming her into a vampire. Morgan and Linda take Taylor to the Bribri village in a desperate attempt to get help from the Bribri shaman to perform an exorcism to rid Taylor of the demon. If this last-ditch attempt fails, he knows he'll have to destroy his own daughter to save her soul, and the world.
The Lamia is the ultimate battle between good and evil, offered from a master storyteller.
King Family Press, 9781735552804, 392pp.
Publication Date: January 12, 2021