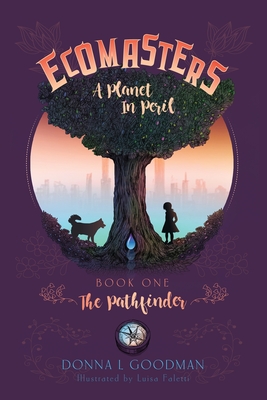 Ecomasters, A Planet in Peril
Book One Pathfinder
Paperback

* Individual store prices may vary.
Description
On this blistering day in the midst of a record-breaking heat wave in NY, deeply held secrets of the past are disclosed to Coral, breaking open the shell of her cloistered upper class Manhattan reality, to reveal the mysterious truth of her mother Sophia's disappearance so many years ago, dissolving into time as if it were only yesterday. A gift, neatly wrapped, at her doorstep becomes the first clue in an unfolding breathtaking global adventure transporting Coral to find her new teammates in some of the more remote corners of the world to fulfill her destiny. As 'pathfinder', Coral's quest to find the others, will lead her to experience colorful cultural settings, perils and opportunities for inspiration all over the world.
Coral is full of brilliance and courage and she instinctively understands that the Ecomasters hold the key to the future of humankind on our planet, but, she does not always know how to engage with her peers and has very limited travel experience, resulting in a number of lighthearted blunders and cultural snafus along the way. The challenges faced by Coral, Hope, Angoori and Phonepasit are similar to the challenges of every reader. Girls, and boys all over the world today have a deep inner understanding for why they are here, but can use 'real-life' role models who make mistakes and get messy while getting the job done is key
Isabella Media Inc, 9781735725611, 198pp.
Publication Date: November 9, 2020