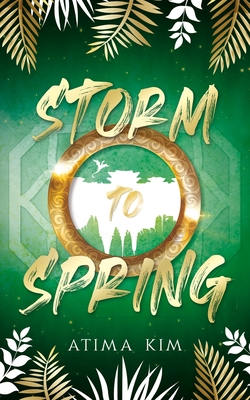 Storm To Spring
Paperback

* Individual store prices may vary.
Description
Lover. Fighter. Survivor.
Yeena's spent years trying to tame the storm that rages inside of her, hiding and locking away emotion and making herself into a shell as cold and as ruthless as a winter wind. She's gotten by on just surviving and keeping everyone at arm's length, but the one thing that threatens to chip away at her rock-solid defenses is now upon her- choosing her consort. Bound to a generational pact, Yeena fulfills her part as a future matron by setting out to make a tour of the eastern covens, meeting with each eligible young lord who wishes to win her favor. She saves the best for last, going to stay with a longtime lover in Nakoya. Hiro is stable enough, in Yeena's opinion, and even if she can't call the feelings she has for him deep in any capacity, she can see no problem with choosing him as consort. Everything changes with the capture of a particularly lively Andan trespasser, a spring witch who appears under mysterious circumstances that he stubbornly refuses to explain, even under threat of torture. Being the only one that is able to communicate with the prisoner, Yeena tries to negotiate and finds herself more involved with the spring witch prisoner than she ever intended to be. In a bid to win his freedom, Yeena offers him a choice; to become her consort instead and live freely and safely among her coven in Miang. What Yeena doesn't count on is the magnitude of the secret the young elemental has been hiding, and of the immediate impact it will have upon her life and the lives of her people. Nor does she anticipate that in taking Yijeong- the spring witch- as her consort, she will have to find her own strength as a matron. In order to protect her new consort and the bond that is slowly forming between them, Yeena will have to face down her demons and come to terms with what it means to really survive, and to love again.
Atima Kim, 9781735796925, 420pp.
Publication Date: October 5, 2021