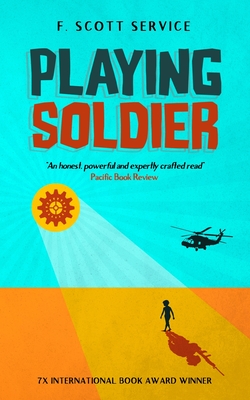 Playing Soldier
Paperback

* Individual store prices may vary.
Description
As an only child isolated within a troubled family, F. Scott Service found solace in fantasy and imagination, until a fateful day led to the discovery of his father's Korean War field jacket hidden in a closet. What began as innocent emulation and approval, eventually spiraled into the calamitous loss of everything he had built as an adult. Faced with a grievous divorce, post-traumatic stress, homelessness, substance abuse, and the failure of everything he had willed himself to believe was truth, one night communing with a loaded pistol became the mechanism for self-clarity. From that darkest time, only elemental deconstruction and reconstruction of identity would allow him to forge a reclamation with his true, original self.
Visceral, with breathtaking candor, Playing Soldier powerfully captures the unlearning of expectation, the celebration of individuality, and the nourishing of self-acceptance once buried by cultural stamps of approval and societal convention. Braided with humor, courage, fear, despair, and hope, his unflinching, evocative story of passage into adulthood, the Iraq War, and beyond, speaks to anyone who has confronted adversity from without and grappled for their dreams from within.
MindStir Media, 9781735818634, 450pp.
Publication Date: November 5, 2020