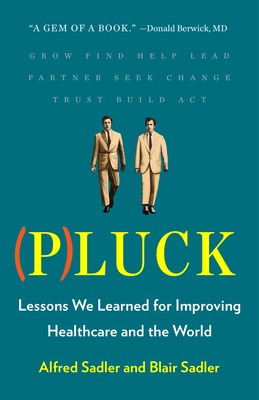 Pluck
Lessons We Learned for Improving Healthcare and the World
Hardcover

* Individual store prices may vary.
Other Editions of This Title:
Paperback (6/28/2022)
Description
"An inspiring story of crucial and familiar aspects of the health care system. The Sadler brothers have an engaging story to tell and do so in an enlightening way." --Kirkus Reviews
"...Fred and Blair Sadler..., a tenacious lawyer-doctor team, share their inspiring quest to fundamentally change public policy and improve modern medicine." --BookLife Reviews
"(P)luck is a memorable story of the work of two brothers on some of the twentieth century's most crucial public health and bioethics issues, ending with inspiring lessons for today's change makers." --Foreword Reviews

Pluck is for anyone who aspires to help improve the world around them.
As a doctor and lawyer, and identical twin brothers with a history of collaborative teamwork, Alfred and Blair Sadler wrote Pluck to share some of the most important lessons they learned on their journey, which began more than fifty years ago, helping to make major decisions that have had a multigenerational impact on healthcare in the United States.

Pluck brings together the spirit of courage, taking of roads-less-traveled, and living with a mindset focused on possibility that we can all call upon to improve everyday life. It inspires hope and collaboration, as well as meaningful change and action.
Alfred Sadler and Blair Sadler, a doctor and a lawyer, who are also twin brothers, worked together on the early laws concerning organ donation and the first heart transplants, the emergence of the physician assistant profession, the birth of bioethics, and the creation of emergency medicine. In this compelling and stirring book, they take us on a fascinating journey through the National Institutes of Health, Yale University Medical School, The Hastings Center on Bioethics, and the Robert Wood Johnson Foundation.
In Pluck, the Sadlers recall being in rooms where major changes occurred that have had multi-generational and lifesaving impacts on our country's healthcare. They describe their roles in helping to lead and accelerate the pace and scale of needed change. The lessons they learned are enduring and relevant today.
Whether you are interested in healthcare, environmental activism, criminal justice reform, economic and racial equity, or education, transformation is possible with the help of the authors' 15 lessons for catalyzing change that conclude their enriching book.
Silicon Valley Press, 9781735873176, 200pp.
Publication Date: June 28, 2022
About the Author
Alfred and Blair Sadler worked as a medical-legal team from 1967-1976. During that time, they held positions at the National Institutes of Health, on the faculty at Yale University School of Medicine, as senior officers at the Robert Wood Johnson Foundation, and were Founding Fellows of the Hastings Center on Bioethics. Together they helped draft the Uniform Anatomical Gift Act in 1968 which was adopted by all 50 states and provides the legal framework for the national network of organ sharing that we have today. In addition to collaborating on their latest book, Pluck, they co-authored The Physician's Assistant: Today and Tomorrow in 1972 and Emergency Medical Care: The Neglected Public Service in 1977.