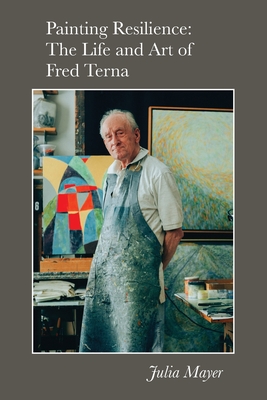 Painting Resilience
The Life and Art of Fred Terna
Paperback

* Individual store prices may vary.
Description
"Painting Resilience" is Julia Mayer's vivid personal exploration of the role Fred Terna's art played in surviving four concentration camps; his post-WWII marriage to his emotionally scarred childhood sweetheart - a fellow survivor; their escape to France, Canada, and the United States; their divorce; and his subsequent happy marriage to a daughter of survivors and the family they created.
Included are reproductions of more than two dozen of Fred's works, along with personal photos captured by Fred's son, photographer Daniel Terna.​ Fred's art is held by the United States Holocaust Memorial Museum, Vienna's Albertina Collection, and Israel's Yad Vashem, among others.
Fred says that living through the Holocaust was luck but living with it takes skill. Julia wanted to discover what those skills are, record how Fred acquired them, and illuminate the manner in which his art gave rise to Fred's "example that painful and destructive memories do not exclude a happy and productive life," as he puts it.
"I have known Fred as a family friend since I was a young girl," recalls Julia. "But it wasn't until six years ago during a tour of his studio and art archive - I was in my mid-20s; Fred was 91 - that I realized I needed to be a conduit for Fred's life and art inspiring future generations."
"In the camps we promised each other that the one who survives would tell the story," Fred told Julia. Today, Fred is 97 and still telling the story and still painting; Julia is 31, and "Painting Resilience" is her effort at ensuring that Fred's story is available to future generations. Upon reading the finished book, Fred told Julia, "By telling my story you have lifted a tremendous burden off my shoulders."
Praise For Painting Resilience: The Life and Art of Fred Terna…
Eloquent and moving. Not many of us can witness to the witnesses, but Julia Mayer's intimate cross-generational account of Fred Terna's story as artist and Holocaust survivor makes clear that even across many generations, it is possible to carry this legacy forward. -- Laura Levitt, Professor of Religion, Jewish Studies and Gender, Temple University. Author of "American Jewish Loss After the Holocaust" (NYU Press, 2007); and "The Objects that Remain" (Penn State University Press, 2020)

"Painting Resilience: The Life and Art of Fred Terna" allows Terna to generously share his experience before, during, and after the Holocaust through both his recollections and artwork, all with great honesty, insight, and sensitivity. -- Museum of Jewish Heritage - A Living Memorial to the Holocaust

Julia Mayer's "Painting Resilience: The Life and Art of Fred Terna" interweaves the language of the art works and the personal stories of Fred Terna and his first wife Stella who survived Terezin and Auschwitz. The biography addresses traumatic memories of survivors that one can never escape. -- Renate Evers, Director of Collections, Leo Baeck Institute New York

"Painting Resilience" is a story about family, human injury, suffering, death, life, beauty, and extraordinary strength. In these pages, I feel artist Fred Terna's indomitable spirit, his profound wisdom, and considerable insights about life before and during the Third Reich. Perhaps, more importantly, in them, I see lessons germane and apropos for today. -- Willa M. Johnson, Ph.D., Associate Professor of Sociology, University of Mississippi

In "Painting Resilience," the talented Julia Mayer depicts recurring motifs running through Fred Terna's work, and explores how life and art intersect before, during, and after the Holocaust. Taking you inside Terna's studio to understand his process and his philosophy, Mayer invites you to share in her and Terna's deep personal rapport. -- Kate Chertavian, Founder, Kate Chertavian Fine Art

Jbj Vision LLC, 9781735876221, 228pp.
Publication Date: November 20, 2020
About the Author
Julia Mayer builds trust with interesting people so she can ask the questions and tell the stories other people don't.

Fred Terna, a 97-year-old Holocaust survivor and renowned artist, has lived one of the most fascinating stories Julia has heard. In "Painting Resilience: The Life and Art of Fred Terna," she vividly captures his time in the camps, his recovery after, his challenging relationship with his first wife Stella, and his discovery of what it means to live in safety and comfort for more than 35 years with his wife Rebecca Shiffman and their son Daniel Terna.

Julia's first book, the young adult novel "Eyes in the Mirror," was published in 2011 by Sourcebooks.

Julia is Director of Development for Year Up, a nonprofit that provides workforce development for disadvantaged young adults. She has a Masters in Management from Harvard University, a BA in Philosophy and Psychology from Boston University, and is a graduate of Bard High School Early College. An avid swimmer and kayaker, she lives in Boston, MA with her husband.