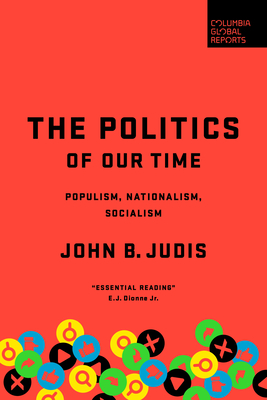 The Politics of Our Time
Populism, Nationalism, Socialism
Hardcover

* Individual store prices may vary.
Description
A one-volume history of the most consequential political movements of our time--populism, nationalism, socialism--and how they are influencing the twenty-first century The distinguished political analyst John Judis has brought out a book with Columbia Global Reports during each of the last three national political seasons: The Populist Explosion in 2016, The Nationalist Revival in 2018, and The Socialist Awakening in 2020. Together, these books chart the rise during the second decade of the twenty-first century of new and unexpected political movements in the United States and Europe that arose in the wake of the Great Recession, the conflict with al-Qaeda and ISIS, and encroaching climate change. Judis has revised and updated these three books, and written a new introductory essay that seeks to explain the tumultuous last decade--most notably, Donald Trump's presidency and the response to a global pandemic and recession. This volume is an indispensable guide to understanding the deeply rooted disenchantment that gave rise to populist parties and politicians on the right and left--and to the global changes that have transformed the politics of our time. Essential reading. --E.J. Dionne Jr., The Washington Post
Columbia Global Reports, 9781735913605, 430pp.
Publication Date: May 11, 2021