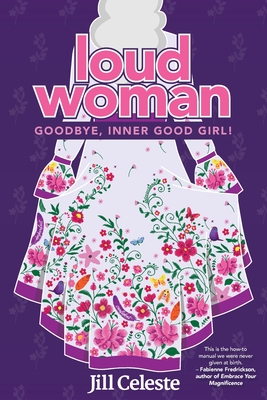 Loud Woman
Goodbye, Inner Good Girl!
Paperback

* Individual store prices may vary.
Description
Together, Loud Woman, we must leave our comfort zones of good-girl manners, perfection, and fear.
It's time to embrace this truth: You deserve to live a fulfilled life...
Not one prescribed by society but one beautifully designed by you...
Loud Woman, look around. All across the globe, people are depressed, or poor, or unfulfilled. Our planet bears the weight of our collective selfishness. Many leaders are corrupt, and we are plagued with a mindset that there's not enough of everything to go around.
Now, look at you. You probably are not living your Loudest life. Burdened by societal expectations for women to be small and Quiet, you have been taught to put your needs last, to always show good manners, and to see other women as competition instead of allies.
That's how Jill was too-overly accommodating, giving, polite, and selfless. But as she watched Dr. Christine Blasey Ford bravely tell her story and testify about Brett Kavanaugh's attempted rape, Jill thought, this is what a Loud Woman looks like. Speaking up and telling the truth-and doing so without apology or explanation. Inspired by Dr. Ford's act of honest courage, Jill realized, right then and there, that it was time for her to get Louder too.
Loud Woman is part memoir, part self-help, all manifesto, confession, and plea. It's Jill's love letter to you, Loud Woman, so you can be inspired by her journey and embark on your own. Inside these pages, you will find a guidebook on how to live a Louder life-from how to push through your fears to trusting yourself more. It's Jill's hope that, after reading Loud Woman, you too will look in the mirror and proclaim, "This is what a Loud Woman looks like."
Praise For Loud Woman: Goodbye, Inner Good Girl!…
women's guide to empowerment and building self-esteem. - Kirkus Review

Any woman who has, either overtly or covertly, been told to "be quiet" needs this book - especially since it validates "Loudness" and identifies the many subtle messages and circumstances designed to keep women from being powerful, effective voices of change. - D. Donovan, senior reviewer, Midwest Book Review
Highlander Press, 9781735933337, 320pp.
Publication Date: September 21, 2021
About the Author
Jill Celeste, MA, loves Loud Women and loud bassets. That's why you will likely find her teaching marketing and mindset to female entrepreneurs at Celestial University; or facilitating sisterhood and connection through her online networking organization, Virtual Networkers; or hanging out with basset hounds as the co-founder of Tampa Bay Basset Hounds. She lives near Tampa, Florida, with her husband, two sons, two cats, and a basset hound named Trixie. To learn more about Jill, please visit JillCeleste.com.