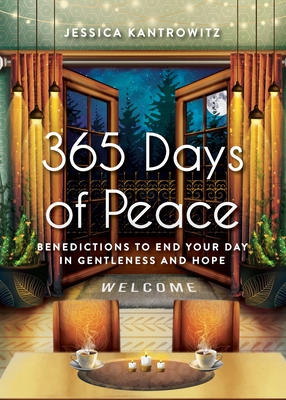 365 Days of Peace
Benedictions to End Your Day in Gentleness and Hope
Paperback

* Individual store prices may vary.
Description
By the end of the day we're often exhausted, worn down by meeting other's needs and our own, frustrated by things that happened today, and anxious about what's going to happen tomorrow. In 365 Days of Peace, writer and theologian Jessica Kantrowitz offers a moment of peace for that transition into the evening. In each of these short benedictions, first posted on Twitter, Instagram, and Facebook, she identifies struggles common to us all yet specific enough that some readers have wondered if she was reading their journals. She then speaks peace over them and over us, offering blessings that are pastoral but also inclusive, accessible for people of any faith, or of none.
Light a candle, make a cup of tea, and settle into the evening with this book, in gentleness, hope, and peace.
Praise For 365 Days of Peace: Benedictions to End Your Day in Gentleness and Hope…
"Jessica is a poet who writes little benedictions for the end of the day and now they are published, so you can buy them for a whole year! I'm someone who doesn't currently like prayer and never liked platitudes, and who most of the time is just really f**king enraged at the unfairness in the world - and yet I like these. Jessica doesn't piss about. Nor does she wallow. Recommended, particularly if you're perpetually pissed off and would like to burn things down. They remind me what hope is like." ~Alex Booer, co-author of Ineffable Love: Exploring Christian Themes in Good Omens.

"No part of life - no experience, no pang, no sensation, no rhythm - escapes Jessica's gaze. Through her lens, the hard and the heavy narratives of life soften and bend. Her words are sutures, gently pulling my frayed and throbbing edges together at the end of day; the benedictions my child-soul ever asked for and never received. Let her gently stitch you up too." ~River Paasch, author of Millenneagram: The Enneagram Guide for Discovering Your Truest, Baddest Self
Jessica Kantrowitz, 9781735965307, 408pp.
Publication Date: November 1, 2020
About the Author
Jessica Kantrowitz is a writer and theologian living in Boston, Massachusetts. She writes about theology, culture, social justice, and chronic illness, including her own struggles with depression and migraines. She has worked as a storyteller for Together Rising, and her writing has been featured in places like Sojourners, Think Christian, The Good Men Project, and Our Bible App. She earned her MDiv from Gordon-Conwell Theological Seminary.