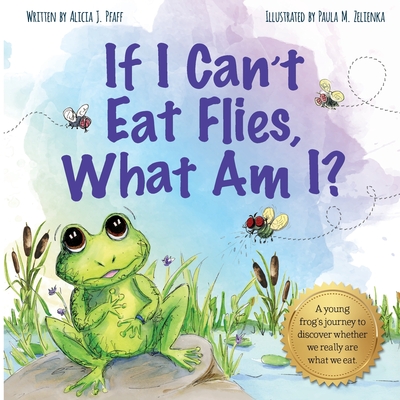 If I Can't Eat Flies, What Am I?
Paperback

* Individual store prices may vary.
Other Editions of This Title:
Hardcover (2/9/2021)
Description
I'm sure you know that frogs eat flies, but if Tad eats flies, then he breaks out in hives. So, he must not be a frog, don't you see? A frog is something he must not be. He goes on a journey, wanders out and about, to discover what he might be (he's determined to find out). Things don't go as planned. That's often the way life goes. But, Tad learns some important lessons, and by the end of the story he knows that he is still a fabulous frog who just happens to not eat flies (and that includes live flies, dead flies or flies cooked in a pie).
Whether you live with food allergies, have a friend or loved one who does, or are wondering why in most schools you see rules against bringing foods you may love, this fun and lighthearted story is for you
Alicia knows the heartbreak and anxiousness that goes along with being a food allergy parent. The book is based on her son's experiences growing up with multiple allergies to common foods such as diary, soy, and egg. Alicia wrote IF I CAN'T EAT FLIES, WHAT AM I? to provide kids living with food allergies a character that they can feel connected to and learn from. Equally as important to her is the desire to raise awareness and compassion in those who interact with these kids and their families.
"The timing of this book release is fortunate in a way, because with the pandemic, most are experiencing firsthand what it feels like to be unsure of whether they should touch, talk to, interact with or share food with another person," Pfaff says. "Everyone is working through the grief of missing important celebrations and holidays with their loved ones and friends-of feeling isolated. That will make it easier for people to relate to children with food allergies. They feel that way often, and with no end in sight."
"Alicia has done an amazing job here; I just love the story The writing is wonderful, and so is the art," says Jennifer Rees, editor at Reedsy and a premier children's book editor of award-winning and New York Times bestselling books such as THE HUNGER GAMES and WAR HORSE. " Alicia] tackles such a great and much-needed topic for a picture book. Our lives deeply revolve around food and the celebration of events with food, so I think Alicia's book would come in handy in so many situations (in schools and at home)."
Ali Joy Press, 9781735989914, 44pp.
Publication Date: February 9, 2021