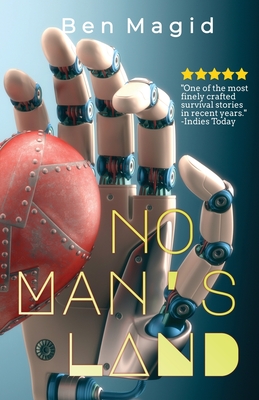 No Man's Land
Paperback

* Individual store prices may vary.
Other Editions of This Title:
Hardcover (11/16/2020)
Description
"My name is Rebel Anne Rae... and I am the last remaining human alive on planet Earth."
Thirty years from now, global and environmental disasters have drastically harmed the planet. Water levels rose. Winters grew colder. Summers, hotter. Penguins went extinct. Then deer. Then trees and the birds that lived in them. But ignorance prevailed. People soon forgot what a hummingbird even was. Or a sunflower.
In an effort to maintain life on a damaged planet, humanlike androids dubbed Mech were developed and programmed to repair Earth. They looked like us. They acted like us. But they were not us. They were cold, emotionless and too perfect.
The lifelong project of engineer William Rae, Mech were envisioned to be a better version of ourselves. His plan was simple: create Mech to repair our planet, and then reprogram them to become self-aware. But he never got the chance.
Our planet had reached a tipping point. Humans had done irreparable damage. The biosphere had stopped working. Mother nature had given mankind the finger for its abuse, and the Earth had become polluted. Mech came to conclude that the only way to save the planet was to cut out the cancer infecting it: Mankind.
Talks ensued. Mech, having no leader, spoke as one. They had demands: humans would have to change their ways or leave the planet. They had one week to decide. Refusing to take orders from machines, humans attacked, setting off EMPs to kill the Mech. They failed. The Mech used a brilliant over-ride of all human input on computers and military tech, then used our own weapons against us. They cut off our resources: food, water, power. And then they attacked.
Humans had prepared for this. Evacuation launch-pads had been built in all the major cities. Arks to flee the planet and take refuge on the moon, which had been colonized. Those that didn't make it were hunted down by the Mech's ground-patrol. And so they did, fleeing the planet...
...accidentally leaving behind one girl.
NO MAN'S LAND is the story of Rebel Anne Rae, the daughter of the creator of Mech, and the lone surviving inhabitant of a robot uprising. She must find a way to avoid detection by becoming what she hates most - one of 'them'. Her goal: to contact her people on the moon and let them know she is still here.
But the Mech are so like normal humans that she can't help but empathize with them, and even fall for one. It is then that the humans return, ready to fight to reclaim their planet.
Bub City Books, 9781736032114, 322pp.
Publication Date: October 30, 2020